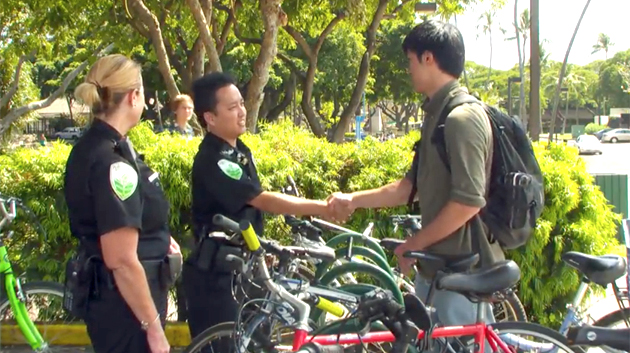 The University of Hawaiʻi at Mānoa Department of Public Safety (DPS) received accreditation through the Commission on the Accreditation for Law Enforcement Agencies, Inc. (CALEA®) in May 2019. DPS is the first college campus security agency to receive CALEA accreditation in the state, and just the second campus in the nation to receive the CALEA Campus Security Accreditation.
"We have been working towards accreditation for several years, strengthening department policies and heightening our standards," said Chief Andrew Black. "This has truly been a department-wide effort, and I am so proud of this department for achieving this standard of excellence within our industry."
In order to achieve accredited status, DPS must comply with 293 standards, and maintain continued compliance in order to keep their status. Accreditation lasts four years, during which time the agency must submit annual reports and participate in annual web-based assessments attesting continued compliance with those standards under which it was initially accredited.
The CALEA accreditation process involved more than three years of policy development and training, to align the department with industry best practices. The program focuses on the safety and security of students and employees, and applies standards that require organizations to consider critical issues such as facility risks, regulatory reporting, technology-based security monitoring, preventative patrol and a host of other issues that provide comprehensive service delivery. These concepts are centered on the community-oriented policing model, which seeks to involve the community in crime prevention and education.
Community-oriented policing provides a framework in which public safety agencies and citizens can work together to prevent and control challenges confronting our communities, and provides clear direction about community expectations. Accreditation serves to give an agency a proven management system of written directives, sound training, clearly defined lines of authority and routine reports that support decision making and resource allocation.