April 10, 2019 video of Pōwehi's annoucement
Two Maunakea telescopes were part of an international collaboration that won the $3 million 2020 Breakthrough Prize in Fundamental Physics award, for the world's first image of a supermassive black hole. It was named Pōwehi after its discovery in April 2017, which means embellished dark source of unending creation.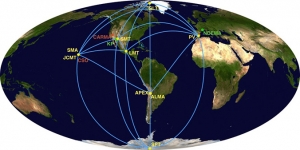 Breakthrough Prize Foundation prize, known as the "Oscars of Science," was awarded to the Event Horizon Telescope Collaboration on Sept, 5, 2019. The groundbreaking observational campaign brought together eight telescopes at six locations around the globe, including Hawaiʻi-based James Clerk Maxwell Telescope (JCMT), Submillimeter Array (SMA) and dozens of local astronomy professionals who played a critical role in the discovery. The 30 awardees from JCMT and SMA represent a mix of scientists, technicians, engineers and operators.
"This award isn't just for the scientists involved," said Jessica Dempsey, deputy director of East Asian Observatory's James Clerk Maxwell Telescope. "This recognition is a reflection of the groundbreaking work we are uniquely able to do here in Hawaiʻi on Maunakea."
A path forward
Recognition through this award reinforces a new path forward, fusing science and culture, with the help of experts like University of Hawaiʻi at Hilo Ka Haka ʻUla O Keʻelikōlani Hawaiian language professor and cultural practitioner Larry Kimura. Astronomers collaborated with Kimura for the naming Pōwehi, whose name is sourced from the Kumulipo, the primordial chant describing the creation of the Hawaiian universe. Pō, profound dark source of unending creation, is a concept emphasized and repeated in the Kumulipo, while wehi, or wehiwehi, honored with embellishments, is one of many descriptions of pō in the chant.
The prize celebrates both the scientists involved, and also the state of Hawaiʻi, as the place that was key to making the award-winning discovery.
"Working together as one ʻohana was critical to our success in capturing the image of Pōwehi," said Geoff Bower, chief scientist for Hawaiʻi operations of Academia Sinica Institute of Astronomy and Astrophysics and Affiliate Faculty with UH Mānoa's physics and astronomy Department. "This recognition is a testament to the importance of Hawaiʻi's astronomy community on a global scale and an example of what we can accomplish working together."
The Breakthrough Prize Foundation, along with its funding sponsors, have awarded the annual prize for eight years to recognize achievements in the fields of life sciences, fundamental physics and mathematics. The Breakthrough Prize is considered one of the world's most generous science prizes, with each award set at $3 million. The award will be split equally between the 347 scientists co-authoring any of the six papers published by the Event Horizon Telescope on April 10, 2019.