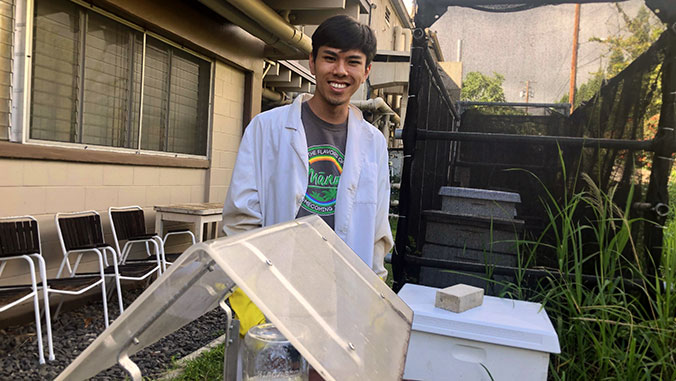 The National Collegiate Honors Council (NCHC) chose a recent University of Hawaiʻi at Mānoa graduate as a 2019 Portz Scholar to receive the organization's top prize for undergraduate honors students. Max Nakamoto was one of only three scholars selected throughout the country.
Nakamoto will present his winning thesis, "Relative Size Learning in Honeybees (Apis mellifera)," at the NCHC conference in Atlanta in November.
"I am so grateful to have received such an honor. I've learned so much throughout this endeavor that I will take with me in the future," said Nakamoto. "I couldn't have done it without the guidance provided by my mentor Patricia Couvillon; my committee member Lorey Takahashi, and Honors Program Director Vernadette Gonzalez."
Nakamoto was a 2015 UH Regents Scholar. Originally from Pearl City, he recently graduated from UH Mānoa with a BS in psychology (with honors) and a BS in biology.
This is the third year that a student from UH Mānoa earned the prestigious award. Jonathan Omuro and Brandy Dobson were Portz Scholars in 2016 and 2017, respectively.
About the Portz Scholars Program
The program was named in honor of John and Edythe Portz. John Portz was the first director of the honors program at the University of Maryland, College Park, and one of the founders of the National Collegiate Honors Council, the professional association of undergraduate honors programs and colleges.