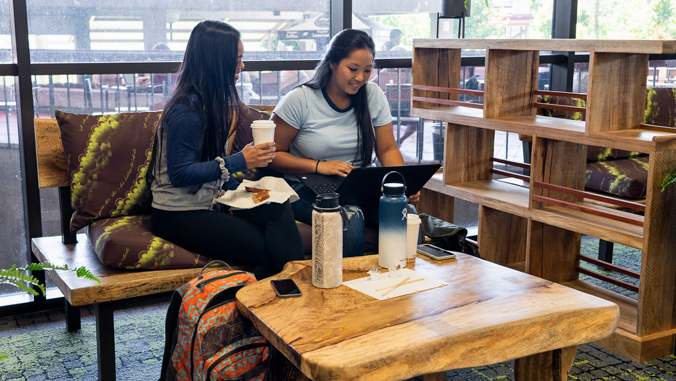 In his redesign of the Edwin H. Mookini Library at the University of Hawaiʻi at Hilo, Library Director Joseph Sanchez wanted to emulate the atmosphere of old-world libraries—the ambiance of intellectual seriousness, the large, old oak chairs, the lighting from low-hanging lamps, the sense of possibility conveyed by stacks of books—but with a distinct Hawaiian feel. And with coffee.
"We wanted to take the underlying concept of biophilic design to build a new space in the library for the UH Hilo community, and create a sense of awe and exploration," explains Sanchez. The term biophilic is a reference to biophilia, a termed coined by ecologist E.O. Wilson, who argues that humans crave connections to nature and other life forms.
"I want to bring the outdoors indoors, let students connect to natural spaces on Hawaiʻi Island, and leverage the unique values of Hilo," he explains.
The design concept
All of the new furniture inside and outside the library is built with wood from mango, robusta and monkey pod trees, all of which are found on Hawaiʻi Island.
"Part of the redesign goal was to create the culture and the community," Sanchez says. This includes everything down to the couch cushions; Tanya Ibarra, a graphic designer at UH Hilo graphics services, designed the fabric incorporating ʻōhiʻa blooms and the UH Hilo mission, ʻAʻohe pau ka ʻike i ka hālau hoʻokahi (One learns from many sources).
"We wanted to create something that connects to the school," says Sanchez.
The library also features a Starbucks On-The-Go self-serve specialty coffee kiosk, Saturday concerts, digital media classes and a host of new items to borrow from the library including cameras, tripods and microphones.
For more on the renovation and what the library has to offer, read the full story at UH Hilo Stories.
—By Leah Sherwood, a UH Hilo graduate student in the tropical conservation biology and environmental science program. Photos by Raiatea Arcuri, a professional photographer majoring in business administration with a concentration in finance at UH Hilo.