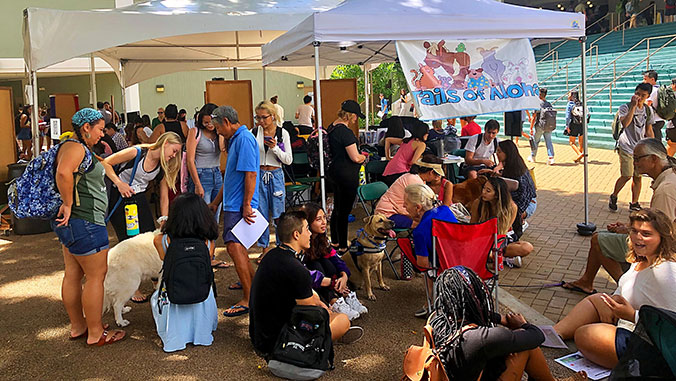 Hundreds of University of Hawaiʻi at Mānoa students were reminded of the importance of caring for themselves and others at the annual Love Life Fair at the Campus Center on September 10. The fair provided resources and information on suicide prevention and how students can help and support their peers as the university marked National Suicide Prevention Week.
Hosted by the UH Mānoa Counseling and Student Development Center (CSDC), the event featured more than 15 departments, student support offices and community organizations providing psychoeducational activities, resources, games, giveaways, music and prizes.
Highlights included educational interaction by CSDC counselors, and the sharing of resources by community organizations such as the Crisis Text Line, Planned Parenthood and the Hawaiʻi Prevention Resource Center. Therapy dogs from Tails of Aloha provided companionship and comfort.
"This year, we continued our partnership with sister departments and community organizations, reached a greater number of students and overall enhanced what we do at our Love Life event," said Allyson Tanouye, CSDC director and chief psychologist. "It shows the strong commitment we all have for our students, that we are here for them and that we truly care. We will continue to improve what we do year after year."
CSDC offers counseling services, workshops, outreach, consultation and training programs for the UH Mānoa community. It also provides crisis/emergency services for students Mondays through Fridays, 8:30 a.m. to 4:30 p.m.
There are resources available for students who might be at risk for suicide or who know someone who needs a helping hand.
Crisis Text Line, text ALOHA to 741741

(Hawaiʻi)

, text TALK to 741741 (National)