About 150 high school counselors from across the state attended an all-day workshop to learn what the University of Hawaiʻi at Mānoa has to offer so they can guide students on how to make the most of their Mānoa experience.
The workshop is an opportunity for counselors to be on campus during the fall semester and experience all that UH Mānoa has to offer first hand. A resource fair featuring UH Mānoa's academic programs and student services provided a wealth of information for counselors to better meet the needs of newly admitted students or those currently in the application process.
"We look forward to hosting this workshop for the high school counselors every year—it's an opportunity for us to welcome, update, connect and partner with them," said Ryan Yamaguchi, UH Mānoa associate director of admissions. "We have a wealth of opportunities and programs available to our students and this is a great way to provide a personalized and educational Rainbow Warrior experience for our counselors."
Opportunity to engage and network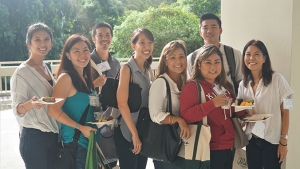 "Whether you're a brand new counselor or have been in the field for years, there's always more to learn. I like the open thought of this university in that it's constantly changing, asking for feedback because they are wanting to engage better with students and also with the counselors and I think that makes for a better institution," said Susan Goya, Hawaiʻi Baptist Academy college counselor.
In the breakout sessions counselors chose from a wide variety of workshops that included a campus tour, admissions 101, transitioning to college, transferring to UH Mānoa, study abroad and exchange opportunities, financial aid and scholarships and the College Opportunities Program.
"The overall experience was good like the resource fair, we could do quick talk stories with the departments to see what's offered on campus. I'm a new counselor and it was helpful to hear more about the programs that are available," said Danalyn Murata, Pearl City High School college counselor. "My students have a lot of questions about college in general. They are all over the place, emotional and stressing out about applying on time, requesting information, getting things done. This workshop was a good opportunity for me to learn more and bring back to my students, calm them down and help them out through this process."
Added Cindy Montgomery, Hawaiʻi Preparatory Academy college counselor, "Each year I attend, I'm really impressed with how many new initiatives are taking place for students to be successful here at Mānoa. I really loved relearning about the College Opportunities Program and to hear of the success this program has had with our local students."
UH Mānoa is consistently ranked among the world's best research universities, and is one of only 115 Research 1 institutions in the country.
The Office of Admissions offer events created specifically for the prospective student and related audiences year-round. To learn more, go the the admissions website.