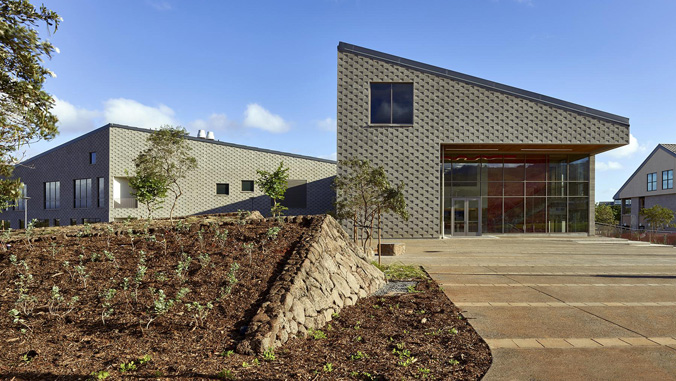 The University of Hawaiʻi–West Oʻahu's newest building has garnered even more accolades, as The American Institute of Architects (AIA) Honolulu Chapter recently awarded the Administration and Health Science building with three awards at its annual event.
The Administration and Health Science building, designed by KYA Design Group and Perkins & Will, received three awards: The Mayor's Choice Award, the new Distinctive Detail Award and the Award of Excellence (Institutional).
"We are thrilled and honored to receive three awards for the design of our newest building on campus!" UH West Oʻahu Chancellor Maenette Benham said. "The Mayor's Choice Award, Distinguished Detail Award and Award of Excellence underscore not only the beauty and functionality of a building but more importantly its meaning as a place of learning, healing and leadership development."
Award details
Honolulu Mayor Kirk Caldwell selects the winner of the Mayor's Choice Award.
"A new and original voice in campus architecture is established by simple and distinctive moves that elevate the campus plan and embrace the existing landscape," according to one juror in the Award of Excellence (Institutional Award), given for completed projects including public and private developments of an institutional nature; K–12 and higher education; recreational facilities/parks, hospitals and medical facilities and utilities.
The Administration and Health Science building received recognition in the Distinctive Detail Award for its exterior skin design. The Distinctive Detail Award was created to honor individual building components and design features on built projects that may not have been recognized for overall achievement. The jury wanted to recognize this project for going above and beyond the typical scope of an architect's work, and demonstrating the role of the designer in advancing material research and manufacturing.
As one juror noted: "This is evidence that a commitment to a small detail can work to address larger scale issues of cost, performance, maintenance and aesthetics."
UH West Oʻahu previously received recognition from AIA in 2015 (Award of Merit) and 2013 (Award of Excellence). The Award of Excellence requires a unanimous vote of the jury that a project excels in all aspects. Reserved for those projects which stand out from all of the meritorious award winners. This highest honor recognizes projects which are deemed to exemplify excellence of architectural design on all levels of analysis, and exemplify the highest standards to which AIA members aspire. The Award of Merit requires consensus from the jury that a project is deserving for a high quality of work overall and is granted to projects which display a high standard of architectural quality and design.
UH Mānoa awards
UH Mānoa School of Architecture students and faculty also picked up awards.
AIA Honolulu Design Award (unbuilt category) Assistant Professor Karla Sierralta and Brian Strawn, Senior Research Associate at UH CDC, project: "Plural Territories: No Permission Required!".
The student awards were created to honor student achievements in the design studio and provide a forum for student design excellence to be celebrated beyond the academic setting.
Award of Excellence (Undergraduate): Kaimana Tuazon, for Transit Studio at

Kualakaʻi

Honorable Mention (Graduate): Yuanyuan Wu, for Aero Skin–Future Airport Design
Honorable Mention (Graduate): Jason Hashimoto, Khoa Nguyen, Valerie Ribao and Julia Schray, for Chua Lanh
Honorable Mention (Graduate): Jonathan Quach, Connie Kwan, Sydney Foster and Mitchell Moses, for Hua Ket: The City of Harmony
Student Distinguished Entrants
Graduate: Calvin Bulan, Kristoffer Jugueta, Erin Larissa Chow and John Peter Quindara, for Banyan Village
Graduate: Siraj Sheriff, Katalina Kim, Christopher Lomboy and William Keanu, for Linkage
Graduate: Keola Annino, Hsuanling Chen, Shane Matsunaga, Ivy Tejada and My Tran, for Synthesis
Graduate: Tian Feng, for Urban Cloud
Undergraduate: Kaylen Denice Daquioag, for ARCH 201

Kualakaʻi

Transit Station
—By Leila Wai Shimokawa