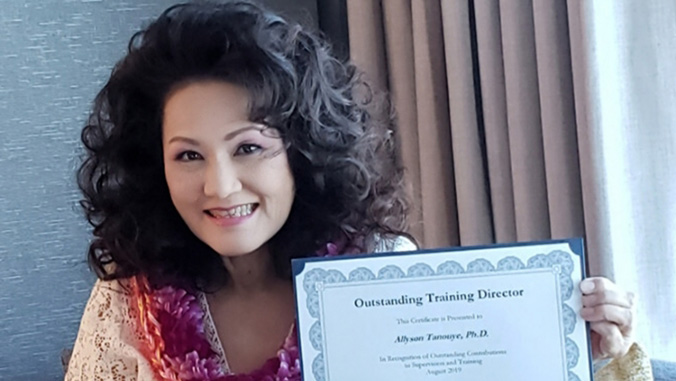 The director and chief psychologist of the Counseling and Student Development Center (CSDC) at the University of Hawaiʻi at Mānoa, Allyson M. Tanouye, has been honored with the 2019 Outstanding Training Director Award from the American Psychological Association (APA) Society of Counseling Psychology (Division 17) Section for Supervision and Training.
The APA award is designed to stimulate and reward innovative and creative contributions in training and leadership in counseling psychology. The award committee evaluates nominees on the merits and creativity of their service, teaching/training, practice and/or scholarly contributions and achievements to the field of counselor training and counseling supervision.
At CSDC, Tanouye oversees all administrative and service operations consisting of psychotherapy, psychiatric evaluation and treatment, crisis intervention, assessment, outreach and consultation provided by a multidisciplinary staff.
Nominators said that Tanouye "serves to enrich the interns' sense of place and identity while also giving back to our island communities" and "facilitates a supportive work environment that truly feels like an ʻohana…one that shares a special bond of genuine compassion, culture, support and respect for each other."
"I am deeply honored to receive this award on behalf of the efforts of our training committee and meaningful contributions by colleagues," said Tanouye. "CSDC's commitment to quality, accessible and culturally–responsive clinical services, supportive yet challenging training goals and activities, and deep and lasting relationships with current and former trainees contributes significantly to my love for the roles and accomplishments as coordinator of training and center director."
Tanouye, who also serves as the interim coordinator of training for the APA-accredited Doctoral Internship in Health Service Psychology, earned a PhD in counseling psychology from the University of Missouri, Columbia.
In 2017, Tanouye received the Mānoa Chancellor's Award for Outstanding Service in recognition of her contributions, including the coordination of the Counselor-in-Residence program—an emergency counseling service for on-campus residents and staff—which also won the 2016 NASPA Region VI Innovative Program Award.