A solo art exhibition by Southern California-based artist Christofer Churchill, a graduate of the art program at the University of Hawaiʻi at Hilo, is now underway at the Parrasch Heijnen Gallery, in Los Angeles. The show opened September 7 and will run through October 12.
Churchill works primarily in painting, collage and drawing. His works are often characterized by a highly saturated palette and a process of intensely overlaid lines and scrawls which combine to form loosely identifiable images of landscapes, faces and other organic forms.
"Hilo was where I decided to be an artist," said Churchill. "Working with Michael Marshall and Wayne Miyamoto really gave me the confidence to pursue a career in art."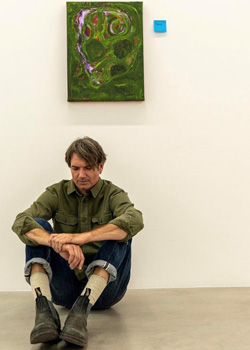 Marshall is a professor of art and past chair of the art and performing arts department. Miyamoto, who passed in 2010, also served as chair of the art department and taught printmaking from 1982 until his death.
Churchill credits the two professors with teaching him a strong work ethic. "We really worked, learning to maintain the printmaking [and painting] studio[s] and [their] equipment," he explains.
Churchill said all of the student work experience he did at UH Hilo laid the foundation upon which he built his career.
"At UH Hilo I learned how art exhibitions get started from the ground up, international logistics and communicating with artists, how to frame and unframe works on paper and properly store them, and pack them up for international shipping and design an exhibition."
For more on Churchill and his career, go to UH Hilo Stories.