The art exhibit Francis Haar: Disappearing Honolulu, featuring works by photographer Francis Haar and curated by Gaye Chan, is on display at the University of Hawaiʻi at Mānoa John Young Museum of Art through December 6, 2019. The exhibit features original black-and-white photographs, courtesy of the UH Mānoa Hamilton Collections, that document the changes to Honolulu's ʻAʻala neighborhood, during the 1960s. Haar taught photography at UH between 1965 and 1985.
"The film and photographs in the exhibition were Francis Haar's efforts to document a working class neighborhood that will soon disappear in the name of urban renewal. Many similar efforts are underway on Oʻahu currently that warrant attention," said curator and UH Mānoa photography professor Gaye Chan.
Haar's images capture the vibrant street life of ʻAʻala as well as the destruction of the area by urban development. The photos that are displayed coincide with Haar's film, ʻAʻala—Life and Death of a Community, which is also on view in the art exhibit.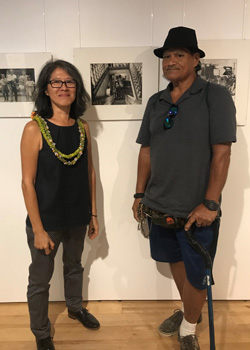 Unifying the past and present
The exhibit additionally features a map developed by Chan with the help of Natalie Besl, Don Hibbard and Lorraine Minatoishi. This project, titled "Francis Haar: Then and Now," shows 18 sites of Haar's photography and compares them to their present locations. The works, while documenting Honolulu's transformation, speak to contemporary concerns about gentrification, land use and urban diversity.
Disappearing Honolulu moved former ʻAʻala resident, Alex Puou, to visit the exhibit and take a stroll down memory lane.
"I saw the [info] for the exhibit on Facebook, I believe. I wanted to go to the exhibit because there were photos of my family there," said Puou. "I was stoked to see my grandma, my auntie and my uncle. It was interesting to see my family and I tried to look for photos of myself too. I enjoyed the exhibit."
Admission and event information
Disappearing Honolulu is free and open to the public. Parking is free for the exhibit on Sundays.
A panel discussion, Architecture and Urban Change in Honolulu's ʻAʻala neighborhood, with DeSoto Brown, William Chapman and Ross Stephenson will be held on October 6, 2–3 p.m.
Chan and Maika Pollack, new director of the John Young Museum of Art, will lead a special tour for photographers and photography enthusiasts on October 20, 2–3 p.m.
Additional information on Haar and the exhibit can be found at the UH Mānoa Department of Art and Art History website.
—By Janica Marie Pascua