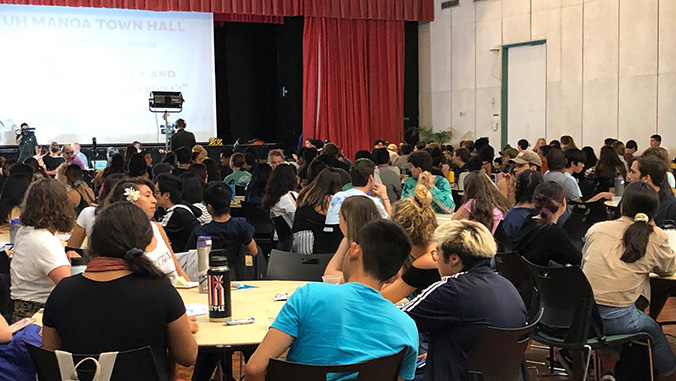 Students and special guests packed the University of Hawaiʻi at Mānoa Campus Center Ballroom for the first Town Hall on Food Insecurity and Sustainability on September 25.
Approximately 270 first-year students learned how issues of food insecurity connect with island sustainability, and discussed what they can do now to ensure access to nutritious food in Hawaiʻi for years to come. Sophomores, juniors and seniors from the Access to College Excellence Peer Mentor program, Advising, Civic and Community Engagement in the Social Sciences (ACCESS) Engagement, Department of Ethnic Studies, Food Vault Hawaiʻi and the Surfrider Club served as roundtable discussion facilitators.
The town hall was designed for students to engage in civic participation and stewardship of the natural environment in a way that would augment classroom instruction. Students were introduced to issues around food insecurity and how these issues intersect with sustainability.
"This event was to not only raise awareness about the issues of food insecurity and sustainability but get us thinking about a variety of ways that we each can take action towards addressing them," said UH Mānoa Director of Civic and Community Engagement Atina Pascua. "As important as it was to discuss initiatives and strategies with attendees it was just as important to have students know that we at UH Mānoa care deeply about our students, their families, our communities and our future together as residents of Hawaiʻi."
Guest speakers included Makena Coffman, director of the UH Mānoa Institute for Sustainability and Resilience, Claire Sullivan, director of development and impact at Maʻo Organic Farms, Jay Bost, farm coach and site manager at GoFarm Hawaiʻi, and Michael Cooney, researcher at UH Mānoa's Hawaiʻi Natural Energy Institute.
Resource tables provided opportunities for students to become civically engaged through volunteerism, and to engage with sustainability-related issues through involvement in on- and off-campus organizations. A number of the programs provided resource tables with more information and ways students can get involved.
The event was sponsored by the UH Mānoa Provost's Office, Office of Civic and Community Engagement, Institute for Sustainability and Resilience, College of Social Sciences ACCESS Engagement, First-Year Programs and the UH System Office of Sustainability.