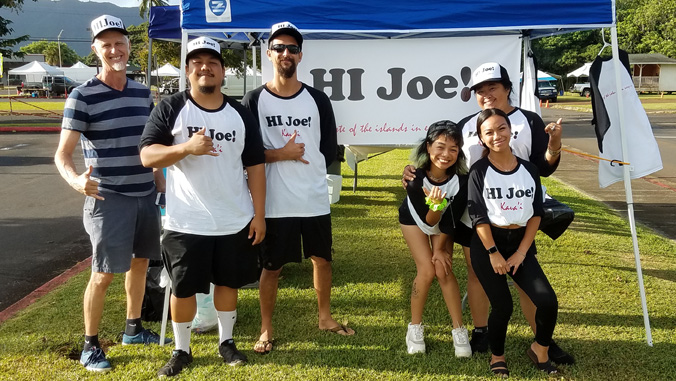 Entrepreneurship students at Kauaʻi Community College are making their mark on the national stage.
This fall semester, students in Kauaʻi CC's Principles of Marketing class entered the Student Entrepreneurship Challenge: Solutions for a Sustainable Life, sponsored by the National Association for Community College Entrepreneurship (NACCE) and HP Life (a peer-reviewed Open Educational Resource for students, entrepreneurs and small business owners around the world). The overarching goal of this competition is for students to work on solutions to local challenges that relate to the United Nations Sustainable Development Goals, specifically Goal #4: Quality Education.
Four Kauaʻi CC teams made it to the Top 20, with one team chosen for the Top 5.
Alakaʻi

Initiative

The team of Meagan Luoma and Meghann Matsuda will be heading to Newport Beach, CA, to make their final business proposal pitch at the NACCE annual conference on October 15, 2019. Their proposal, The Alakaʻi Initiative, looks to attract and keep local teaching talent at home and provides a solution to low wages and the high cost of housing on Kauaʻi by working with the Kauaʻi Hotel and Lodging Association to provide hotel rooms or condos at greatly reduced rates for up to two years. The initiative would work with the Hawaiʻi State Department of Education to identify and screen potential candidates and then place them in housing. While in the program, the initiative would monitor teaching performance and support professional development.

Luoma said, "[Making the finals of the competition] really gives us a sense of validation that, as we develop our entrepreneurial skills and knowledge, it can be recognized as having value beyond our classroom."
HI Joe! Coffee shop
Kauaʻi CC students have also successfully launched a pop-up coffee shop as part of a NACCE pilot project.
In March, Kauaʻi CC's business program was selected as one of five pilot institutions to participate in this project. The goal is to enhance course content around the subject of financial management for entrepreneurs using educational modules created by Intuit Education. Kauaʻi CC's Entrepreneurship 150 course, Basic Accounting and Finance for Small Business, has integrated modules to supplement the materials and methodologies used to engage students.
The college took the project a step further by having students apply their financial management skills through HI Joe!, a pop-up coffee shop operated by students at the Saturday Kauaʻi Community Market.
"We are really excited to be able to partner with NACCE and Intuit Education to provide this unique opportunity for students to flex their entrepreneurial muscles in operations, marketing and promotions and finance and accounting through HI Joe!," said Dirk Soma, Kauaʻi CC assistant professor and business program coordinator.
Student Leticia Saio added, "Being a part of this entrepreneur class has given me a drive that died inside of me years ago. So far, I have learned not only the basic fundamentals of starting a business from the ground up, but it has given me direction and brought out the commitment and leadership that it takes to have such an amazing project. This HI Joe! project gave all of us the opportunity to share a little of Hawaiʻi's finest, but what stood out is the conversations that came with that cup of Joe. People came back not just for the awesome flavor of the Joe, but because of purpose. Supporting young business entrepreneurs doing a good thing. It's a class I am grateful I am a part of!"