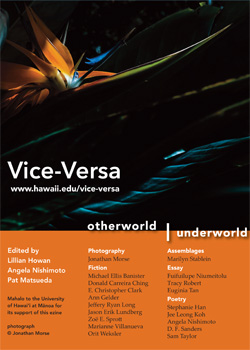 Vice-Versa, a literary e-zine published annually at the University of Hawaiʻi at Mānoa, has launched its 2019 issue. Guest-edited by Lillian Howan and Angela Nishimoto, the issue features the work of 20 writers and artists on the theme "Otherworld/Underworld."
The featured works range from photography of Hawaiʻi to stories about the effects of Westernization, war, sea-level rise and artificial intelligence on society and individuals. Settings for this e-zine include Hawaiʻi, Tonga, Singapore, dreamscapes and futuristic cities.
The genres published include poetry, nonfiction and science, speculative and detective fiction. The e-zine also features all-women written essays that describe Pacific, Asian and American families and what happens when other worlds intrude on these carefully wrought structures.
UH contributors include fiction writers Donald Carreira Ching (Leeward Community College English instructor), Jeffery Ryan Long (UH Mānoa English doctoral candidate) and Zoë E. Sprott (UH Mānoa English master's degree candidate). Jonathan Morse, retired UH Mānoa professor of English, also shares color photographs of Hawaiʻi. Other contributors include faculty and students from Lesley University in Massachusetts, University of California at Berkeley and Wichita State University.
About the editors
Guest editor Howan spent her early childhood in Tahiti and graduated from the University of California, Berkeley, School of Law. Her writings have been published in many literary journals and in the anthology Ms. Aligned 2: Women Writing About Men and Under Western Eyes. She is the editor of Rosebud and Other Stories (UH Press, 2011), a collection by late playwright Wakako Yamauchi and the author of The Charm Buyers (UH Press, 2017).
Guest editor Nishimoto holds an MS degree in botany from UH Mānoa. She was raised on the windward side of Oʻahu and teaches at Leeward CC. Her short fiction and poetry have appeared in many Hawaiʻi and mainland journals and in the anthology Ms. Aligned 2: Women Writing About Men. She is completing her first novel, Isabella's Daughter.
Editor Pat Matsueda is the founder of Vice-Versa and the managing editor of Mānoa: A Pacific Journal of International Writing. Her books of poetry and fiction have been published by El León Literary Arts (Berkeley) and Mānoa Books (Honolulu).
To view the content and more details of the e-zine, go to the Vice-Versa website.