Entrepreneurship students and their teacher from Kauaʻi Community College shone brightly on the national stage at the annual conference for National Association for Community College Entrepreneurship (NACCE) in October in Long Beach, California.
Student Entrepreneurship Challenge
Team M2, comprised of Kauaʻi CC students Meagan Luoma and Meghann Matsuda-Blaylock, placed second in the Student Entrepreneurship Challenge: Solutions for a Sustainable Life competition. Their Alakaʻi Initiative proposal, designed to recruit and retain local teachers by working with the Kauaʻi lodging industry to provide hotel rooms and condos at cost or free of charge for up to two years, was one of the top five proposals selected from entries across the nation to compete at the conference.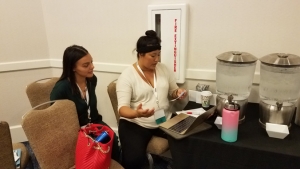 "I am just super proud of both of these young women for their innovative solution to reducing the main barrier to keeping our teaching talent home," said Dirk Soma, assistant professor and faculty advisor. "By working with existing lodging inventory on island, we can implement this quickly and make an impact in the classroom and community quite rapidly."
The judges noted that the Alakaʻi Initiative can also be scaled both across the state and in other communities across the nation that are facing the same challenges.
The Alakaʻi Initiative was also the winner of the Member's Choice Award, which was determined by NACCE conference attendees during the opening reception. The five student teams pitched their proposals and earned votes through members dropping play money into boxes located at each booth.
"This just validates Team M2's proposal because NACCE members are professionals, executives, and faculty who are part of the entrepreneurial ecosystem across the United States," Soma said.
Trades proposal has possible global impact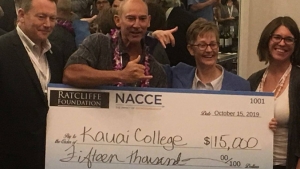 Kauaʻi CC's Sustainable Building Construction Technology proposal was awarded $15,000 from the Philip E. and Carole R. Ratcliffe Foundation as part of another nation-wide contest, the 2019 Pitch Competition for the Trades. The overarching goal of the competition was to foster job creation for the trades. The top 10 finalist teams competed on the main stage for funding with proposals that targeted skill enhancement, job creation and entrepreneurship. In this fast-paced competition, teams were given three minutes to make their case and the judges were allowed to ask questions during a two minute Q&A period.
In addition to focusing on exposing students and existing tradesmen to new construction techniques focusing on sustainability, Kauaʻi CC's project also incorporates entrepreneurship skill sets to enable students to become business owners. The project envisions using a 40-acre portion of the campus to allow students to design and develop a community that incorporates sustainability in every stage from building materials, to renewable energy, aqua- and hydroponics and a zero-waste management program.
The sustainable community will not only solve Kauaʻi CC's need for student and faculty housing, it can also be replicated across Kauaʻi, the state and the globe. One of the competition judges has already reached out to link Kauaʻi CC's project with international partners.
"Those were the most intense three minutes of my educational career," said Soma, who participated in the pitch. "We have an opportunity to make an impact beyond our community, and the judges really saw the value of our proposal."
Kauaʻi CC Trades Division Chair Gordon Talbo and Carpentry Program Instructor Duke Lang collaborated with Soma on submitting the winning proposal.
—By Kelli Trifonovitch