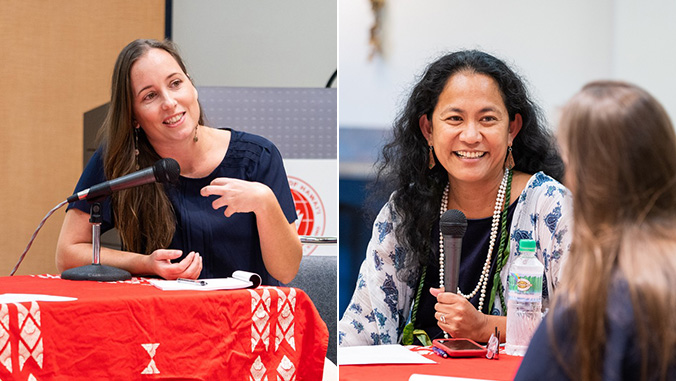 Two faculty members shared examples of their friendship to illustrate the value of civil discourse at a University of Hawaiʻi at Hilo workshop held in October.
The open discussion "Civil Discourse and Maunakea: Dialogues in Friendship" attended by UH Hilo faculty, staff and students encouraged civil discourse related to the current protest against building the Thirty Meter Telescope (TMT) on Maunakea. The discussion was led by UH Hilo Assistant Professor of Astronomy Heather Kaluna and Professor of Philosophy Celia Bardwell-Jones.
The workshop was inspired by the friendship and conversation shared between Kaluna and Bardwell-Jones during a huakaʻi (trip) to Maunakea over the summer. "That experience spawned a framework of friendship in talking about controversial issues," recounts Bardwell-Jones.
The topics addressed by the participants at the forum included the meaning of community in Hawaiʻi, what it means to be kanaka and a scientist, Hawaiian and Western perspectives on the practice of science, and whose voices in the community can and should be heard regarding TMT. Faculty addressed the moral and ethical conflicts faced by students who need to attend class but also want to participate in the events on Maunakea.
Kaluna, born and raised in Pāhoa on the island of Hawaiʻi and a UH Hilo alumna, says these conversations are vital for bringing people together. "This is an important topic for the community and for me," says Kaluna. "I think it's important when we have any type of community tension that we learn to work together and come out stronger as a community."
—By Leah Sherwood, a UH Hilo tropical conservation biology and environmental science graduate student