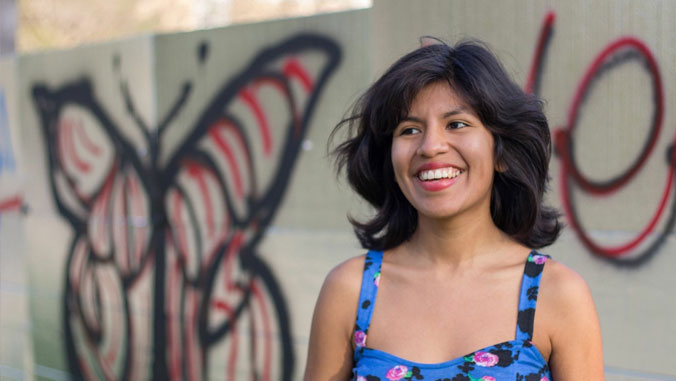 Diana Delgado Cornejo, a graduate student in the English department at the University of Hawaiʻi at Mānoa, is a recipient of the Paul and Daisy Soros Fellowship for New Americans. Delgado Cornejo is using the fellowship to pursue an MA in creative writing. Fellows are selected for their drive, creativity, intellectual spirit and commitment to the values at the heart of the United States Constitution and Bill of Rights.
Delgado Cornejo is looking to incorporate the framework of aloha ʻāina—Hawaiian philosophy of love of land—into her work. "I have found that the UH Mānoa English MA program uses an explicitly decolonial framework when it comes to literature," said Delgado Cornejo. "The program squashes the very reason I chose to study modern languages and literatures instead of English in undergrad; I did not want to be intellectually stifled by a linguistically restricted diet of Great American Novels or classic British plays."
Fueling her passion
An immigrant from Peru, Delgado Cornejo moved to Los Angeles, California with her parents at the age of five. It wasn't until post 9/11 that the company who sponsored her computer scientist father laid off most of their foreign workers, and her entire family lost their visas, leaving her to grow up undocumented. Despite this setback, Delgado Cornejo earned a full scholarship to Loyola Marymount University, where she grew passionate about language discrimination.
In the years leading up to the 2016 election, Delgado Cornejo became an immigration activist, leading fellow undocumented classmates to successfully lobby for immigrant sanctuaries on their campus, increased funding for resources to undocumented students, and the hiring of a school psychologist with a specialty in undocumented anxiety. She learned four languages, Spanish (native tongue), English, French and Mandarin, despite being unable to visit the countries that spoke them. She is currently learning ʻŌlelo Hawaiʻi. Delgado Cornejo graduated with a BA in modern languages and literatures in 2016.
"When you're undocumented, everything kinda seems like the same degree of impossible: getting a visa someday, swimming to the moon, getting full rides to school, growing sunflowers underwater, abolishing legal citizenship, none of it seems like it could be real," said Delgado Cornejo. "But when everything is the same amount of impossible, everything is also the same amount of possible. Who's to say I can't become the first undocumented U.S. poet laureate someday? Who's to say I can't win a fellowship with 1.7 percent odds today?"
Her writing and activism has been recognized by the Los Angeles Times, Sin Embargo Mexico, Telemundo and Univision.
More on the Paul and Daisy Soros Fellowships for New Americans
The organization supports outstanding immigrants and children of immigrants who are pursuing graduate education in the U.S. Each year, 30 individuals are selected, and each receives up to $90,000 toward their graduate education. This year's fellows were selected from a pool of 1,767 applicants from across the country.
Past Fellows include former U.S. Surgeon General Vivek Murthy; California Surgeon General Nadine Burke-Harris; Stanford AI leader Fei-Fei Li; Lt .Gov. of Washington Cyrus Habib; composer Paola Prestini; computational biologist Pardis Sabeti; award-winning writer Kao Kalia Yang, and more than 600 other New American leaders.