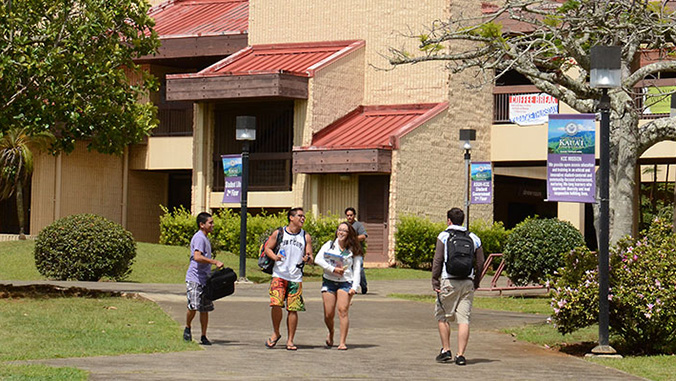 Two finalists for the Kauaʻi Community College chancellor position have been selected by the chancellor search advisory committee and will participate in a final round of interviews that includes public forum for each candidate.
The public is invited to meet the candidates on Wednesday, November 13, 2019, at open forums at Kauaʻi CC. The campus presentations provide an opportunity for stakeholders to meet and learn more about the candidates and their perspectives on addressing current issues and leading Kauaʻi CC into the future.
Open forum schedule
Fine Arts Auditorium
11 a.m.–12 p.m.: Michael Calvert
12:15 p.m.–1:15 p.m.: Joseph Daisy
Candidates
Michael Calvert
Michael Calvert is currently president of Pratt Community College in Pratt, Kansas, a role in which he has served since 2013. His accomplishments during his tenure at Pratt include the college's recognition by the Aspen Institute as a Top 150 Community Colleges in the Nation four times and as a Siemens Technical Scholars Program Qualifier twice.
Prior to this role, he was president/vice-president at Central Community College in Grand Island, Nebraska; dean of humanities and social sciences at Butler Community College and dean of Butler Learning Centers in El Dorado, Kansas. He currently serves on the American Association for Community Colleges Commission on Student Success. Calvert has more than 37 years of experience in higher education as an instructor, football coach, dean and assistant dean, and interim vice-president.
Calvert holds a doctorate of education in educational administration from Oklahoma State University; master of arts in physical education from the University of South Dakota; and a bachelor of arts in physical education from Northwestern College, Iowa.
Joseph Daisy
Joseph Daisy is president and CEO of the College of Micronesia-Federated States of Micronesia, a role in which he has served since 2012. Prior to that, at Cambridge College in Massachusetts, he was executive vice president; vice president for college affairs and enrollment management; assistant vice president for policy, research and communications; and director of research and evaluation. Also, at Cambridge College, Daisy was a senior faculty member in the School of Education's Graduate Programs in Education, Leadership and Research; and founding director of the doctor of education degree program.
Daisy has more than 41 years of experience in secondary education as a teacher, vice principal and principal; of the 41 years, more than 34 years are in higher education as a counselor, faculty, director, vice president and president/CEO. He has served as an associate director at the New England Association of Schools and Colleges, Inc., providing accreditation services to public secondary schools.
He holds a doctorate in education in educational leadership from Nova Southeastern University in Florida, and master of education in educational administration and bachelor of arts in history from Suffolk University, in Massachusetts.