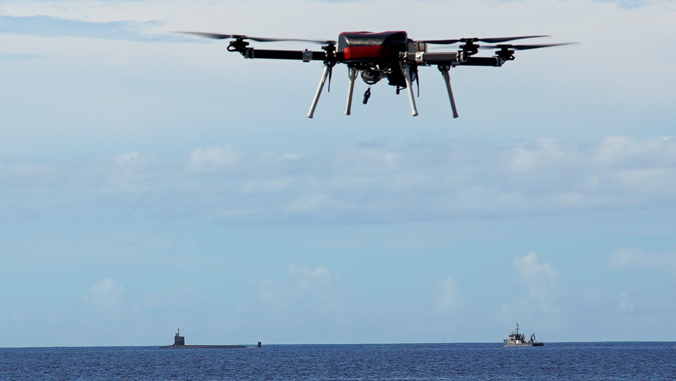 The University of Hawaiʻi played a key role in an important milestone for the U.S. Navy. For the first time ever, an unmanned aerial vehicle (UAV) delivered supplies to an underway submarine, the USS Hawaiʻi, a mile off the coast of Oʻahu.
The project is a collaboration between the U.S. Pacific Fleet Submarine Force and the UH Applied Research Laboratory (ARL) that owns and operates the UAV. A five-pound payload consisting of circuit cards, medical supplies and food was successfully delivered.
"A large percentage of parts that are needed on submarines weigh less than five pounds, so this capability could alleviate the need for boats to pull into ports for parts or medical supplies," said U.S. Navy Lt. Cmdr. Christopher Keithley in a recent U.S. Navy online story.
Rear Adm. Blake Converse, commander of the U.S. Pacific Fleet Submarine Force, agreed and commended the joint effort saying it, "has resulted in delivering necessary supplies to submarines that can save time and money, allowing us to stay in the fight."
"I see our role at the ARL as protecting those who protect us, whether thatʻs the military, first responders or our planet," said Margo Edwards, UH ARL director. "This was a great first step toward a viable concept of operation that could be a game-changing capability for the fleet."
The project began more than a year ago when Navy officials approached UH ARL with the concept. Josh Levy, UH ARL UAV specialist, provided more than six months of extensive UAV flight training to the four Navy volunteers assigned to the project who would ultimately fly the successful mission. "I tried to make the homework tougher than the test, and that approach yielded success," said Levy, a UH Mānoa graduate with a masters degree in marine biology.
In addition to the extensive training program, Aricia Argyris, UH ARL mechanical engineer, developed and refined innovative technology, specifically, a "snag" pole and payload release mechanism, for the UAV under the mentorship of Ted Ralston, UH ARL UAV director.
The opportunities are here in Mānoa, and I encourage students to seek them out and take advantage of them.
Aricia Argyris
Born and raised on Hawaiʻi Island, Argyris interned at the lab before being hired full time after graduating from UH Mānoa with a mechanical engineering degree in 2018. Less than a year into her new job, she used additive manufacturing techniques to rapidly mature the technology, enabling the Navy sailors to recommend modifications to the custom-designed components on demand.
"I have always had a love for robotics and I wanted to do something that involved creating, designing and building. I was lucky enough to find this job opportunity with UH Applied Research Lab," said Argyris. "The opportunities are here in Mānoa, and I encourage students to seek them out and take advantage of them."
Argyris did, and now the U.S. Navy may start using UAVs to deliver supplies to submarines at sea on a regular basis because of her work supporting the collaboration between the UH Applied Research Laboratory and the U.S. Navy.