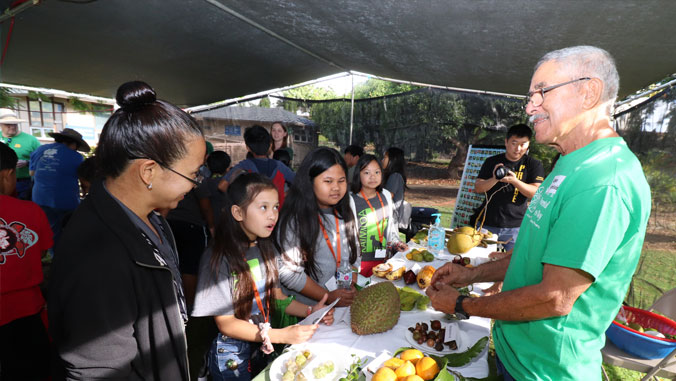 Busloads of elementary school students and teachers will descend on the Oʻahu Urban Garden Center in Pearl City on Friday, November 1, for a morning of hands-on exhibits and fun activities as part of Agriculture and Environmental Awareness Day.
The annual event, hosted by UH Mānoa's College of Tropical Agriculture and Human Resources (CTAHR), is an opportunity for keiki to learn about food production and environmental sustainability, and explore a possible career in agriculture and environmental studies—right here in Hawaiʻi.
Exhibits and events
State agencies, nonprofits and community groups will join CTAHR to present information about xeriscape gardening, fruit growing, invasive species, nutrition for wellness and more.
"The kids will have lots of fun," says CTAHR Extension Agent Joshua Silva. "They'll take home a greater awareness about the world around them, where their food comes from and the impacts we have on the environment. They'll meet our faculty and staff, plus our partners in government and community organizations, and see that there are very exciting careers in agriculture and the environment."
On Saturday, November 2, the Urban Garden Center will be open to the public featuring many of the same exhibits, along with a plant sale and annual Arbor Day Tree Giveaway. One free tree will be given per family while supplies last. The plant sale will feature herbs, vegetable starts, succulents and more. Students who attend both days will receive a special prize.
The 30-acre Urban Garden Center is owned and operated by CTAHR. It is open year round and hosts a wide range of tours and functions.
More video and photos from the 2018 Agriculture and Environmental Awareness Day.