A 3D optical scan study by Michael Wong, a University of Hawaiʻi at Mānoa graduate student in the University of Hawaiʻi Cancer Center's research lab of professor John Shepherd, was selected by OBESITY as one of the top five entries for research that significantly furthers scientific understanding of obesity. The study, "Children and Adolescent's Anthropometrics Body Composition from 3D Optical Surface Scans," was featured in the November 2019 issue and presented at Obesity Week 2019 in Las Vegas, Nevada.
"Childhood obesity rates in Hawaiʻi have been steadily increasing over the last couple of decades, as it has been in states across the nation. Obesity is a risk factor for some cancers and metabolic syndrome. 3D technology could be a crucial tool in identifying obesity early during childhood in order to prevent obesity and metabolic syndrome in adulthood," said Wong.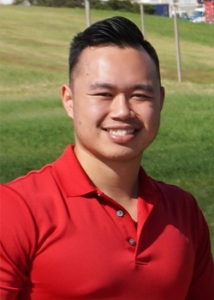 Wong used 3D optical technology, Fit 3D, to make body composition equations for children and teenagers ages 5 to 17 years. The equations Wong created for 3D optical scanners provide easy-to-use and accurate body composition models that can track body changes over time. The 3D optical technology is not only safe to use on children, but also gives accurate health assessments.
"Although there are many body composition measurement methods and tools, most are not easily accessible to the general public and require a technician or are not accurate. 3D optical scanners are becoming more accessible, safe and can be self-operated," said Wong.
The research from this study will be used to track changes in health over time, in order to reduce the prevalence of obesity and its effects. Since 3Doptical technology has been found to be an effective tool for studying a number of populations at every stage of life, Wong and his team will begin developing models to study the body composition of astronauts and children from birth to five years old.
—By Nana Ohkawa