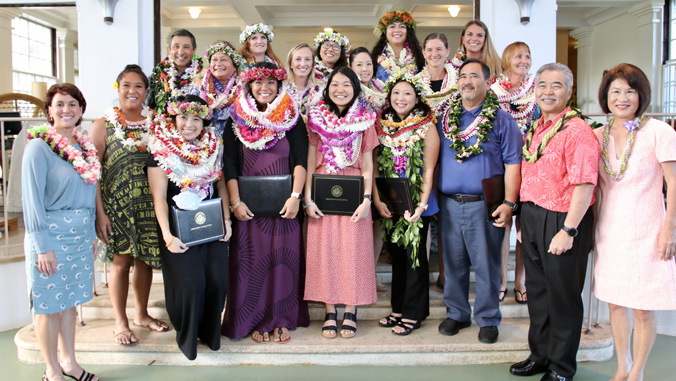 Top Hawaiʻi Department of Education (DOE) award winners this year are products of the University of Hawaiʻi at Mānoa's College of Education (COE). Four alumni and one student were recognized as Hawaiʻi Complex Area Teachers of the Year, one alumni was named Hawaiʻi State Teacher of the Year and another earned the state's Principal of the Year award.
Hawaiʻi

Complex Area and State Teacher of the Year awards

Cecilia "CC" Chung was honored with the Hawaiʻi State Teacher of the Year award and Celeste Endo, Kathy Sewake, Ululani Russo, Dustin Chang and Nikki Morishige were recognized as complex area teachers. Chung and Endo were recognized on Educator Appreciation Day at Aloha Stadium during the UH vs. Fresno State football game on November 2.

"We are so amazed by and proud of all of the Teachers of the Year," said COE Dean Nathan Murata. "Their commitment to improving education in Hawaiʻi, year after year, is inspiring."

The COE alumni won for the following complexes:
Endo: Kaimukī-McKinley-Roosevelt
Sewake: Hilo-Waiākea
Russo:

Nānākuli-Waiʻanae

Chang:

ʻAiea

-Moanalua-Radford
Morishige: Castle-Kahuku
The awardees shared how their time at COE shaped them into the educators they are today.
"The support that I received from my professors and peers throughout the elementary education and educational technology programs was amazing," said Sewake. "In fact, I continue to learn from these incredible educators and friends today."
Chang agreed, saying, "The professors were very encouraging and helpful, preparing us for what we needed to know and what to expect as future teachers. The classes allowed me to learn and make connections with professionals in the field of music, many of whom I turn to today for help and advice."
Russo, who is a current doctoral student in the Department of Curriculum Studies and Waiʻanae Intermediate teacher, said, "All of the graduate classes I have taken have helped my teaching career tremendously, as they focus on Hawaiian culture and place-based science. As a new PhD student, I am taking classes out[side] of my comfort [zone], and it's been opening my eyes to multiple perspectives."
Principal of the Year
Mililani High School Principal Fred Murphy was named the state's National Distinguished Principal of the Year by the Hawaii Association of Secondary School Administrators. Murphy was recognized locally during an event at the Hale Koa Hotel and nationally at the National Association of Secondary School Principals National Principal of the Year Institute in Washington D.C. where he joined the 49 other state awardees.
National Distinguished Principal awardees are selected based on leadership skills, student learning, school demographics, professional preparation and education and recommendations from students, teachers, staff and Hawaiʻi State Department of Education leaders.
"The College of Education at the University of Hawaiʻi was truly impactful in my development as an educator, and later, educational officer," said Murphy. "I have vivid memories of the caring and knowledgeable professors who truly knew what was going on in our public schools and I felt well-prepped to enter the DOE."
Seven years ago, Murphy became principal of Mililani High School, his alma mater. Under his leadership, curriculum offerings grew significantly with over 23 Advanced Placement courses, the most of any public or private school in Hawaiʻi, as well as 27 Career and Technical Education programs, 52 student extracurricular clubs and 47 athletic teams.
"I am indebted to the COE for providing me opportunities to grow and lead," Murphy said.
For more details on the Hawaiʻi Complex Area and State Teacher of the Year awardees, as well as the state's Principal of the Year awardee, please visit the College of Education news website.