A new University of Hawaiʻi Cancer Center coordinated liver cancer clinical trial opened in Hawaiʻi combining two different immunotherapy medications to combat the aggressive disease. The Phase II clinical trial is only available in Hawaiʻi, a state with one of the highest incidence and mortality rates of liver cancer in the U.S.
"Many patients with liver cancer will present at an advanced stage. For these patients, immunotherapy, medicine to enhance the immune system, is one of the most effective treatments," said Jared Acoba, principal investigator of the trial and assistant professor at the UH Cancer Center.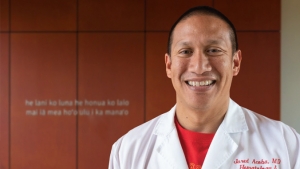 Acoba developed the clinical trial to find new treatments for patients with locally advanced or metastatic liver cancer. The trial tests how two immunotherapy medications, anti-TIM-3 antibody and anti-PD-1 antibody, work in combination to shrink tumors by allowing the immune system to destroy cancer cells.
The UH Cancer Center is the only Food and Drug Administration approved institution to test the two agents in combination, specifically to treat liver cancer. The clinical trial is being conducted at Hawaiʻi Cancer Consortium network sites, Hawaii Cancer Care, Inc. and Hawaii Oncology, Inc.
"Developing a new more effective treatment would significantly improve the care of liver cancer patients in the islands and across the U.S. It is a single arm trial, so all patients will receive the novel therapy," said Acoba.
UH Cancer Center Hawaiʻi Tumor Registry Facts and Figures
More than 200

Hawaiʻi

residents are diagnosed with liver cancer each year.

Hawaiʻi

ranks in the top three in the country for liver cancer incidence and mortality rates.
Liver cancer incidence is significantly increasing among men in

Hawaiʻi

.
For more information about the clinical trial, call (808) 586-5854.
—By Nana Ohkawa