Honolulu Chef Jeffery Hayashi and Kapiʻolani Community College culinary student William Barrera will represent the United States in the renowned biennial international culinary competition Bocuse d'Or 2021. Ment'or, the nonprofit formed to support and train the U.S. national team, announced the winners on November 12. Kapiʻolani CC Culinary Arts Instructor Jason Peel served as coach. They are the first team from Hawaiʻi to bring home a national selection win.
Convening at The Culinary Institute of America's Copia campus in Napa, California, on November 12, the three finalist teams competed over a five hour and 35 minute period, following the rigorous format of the actual Bocuse d'Or competition. The platter theme was Whole Chicken, from Palisades Ranch in California, and the plated theme was Ratatouille.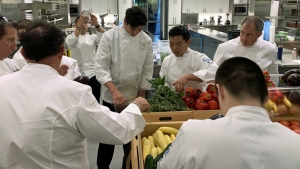 "I'm so excited for their next step towards their journey to Lyon and a Bocuse D'or win. It was a pleasure to help both of them grow as their coach and to help them through the grueling 5 1/2 hours of detailed precision at the competition at the CIA in Copia," Peel said. "William also won the best Commis for the competition. It's just awesome to showcase the skills that our culinary school and culinary instructors are giving to the next generation of chefs."
Barrera called the win a once-in-a-lifetime experience. "I am so thankful to all of the teachers at KCC for all of the support and knowledge that without a doubt helped lead us to a victory," he said. "I am also thankful for the administration of KCC for allowing us to use a kitchen for practice. I would especially like to thank Jeffery Hayashi and Chef Jason Peel for the opportunity to compete, as well as supporting me in numerous aspects throughout our practice sessions and even everyday life. Without them I would have never been given the opportunity to represent Hawaiʻi and the U.S. alongside Jeff on a global scale."
Hayashi, who previously competed for Team USA in 2019, and Barrera, will now begin the rigorous journey to the Bocuse d'Or as Team USA 2021, relocating closer to the training facility in Napa and potentially dedicating the next 14 months to prepare.
To qualify for the 2021 competition in Lyon, France, Team USA will need to be among the top five out of 12 teams in the Americas region (including Canada, Mexico and South America) that will compete in April. Ment'or will support Team USA as they train, with the foundation's esteemed Chef Council continuing to play an invaluable role in mentoring them.
"I feel very fortunate for this once in a lifetime opportunity," Hayashi said in the Ment'or release. "Any one of the competing chefs could have won. To now officially be on the road to Lyon for Bocuse d'Or is surreal, and I'm incredibly thankful for all the support."