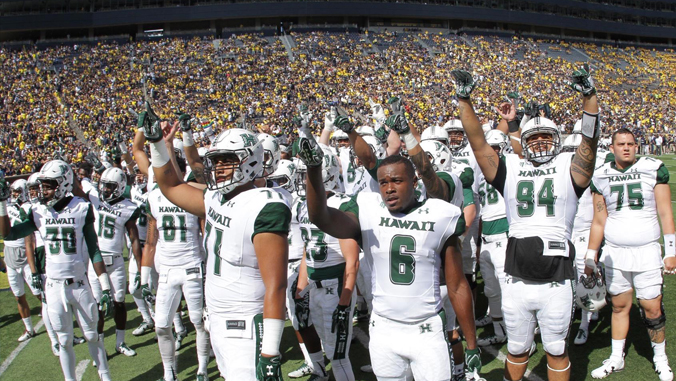 The University of Hawaiʻi at Mānoa football team will be paid a record $1.9 million to play Michigan University in Ann Arbor, Michigan in the 2022 season, according to Michigan media reports. Michigan officials confirm it is the largest guaranteed amount to an opposing school for a football game in the school's history. The game with the Big Ten powerhouse will be played at "The Big House," Michigan's home stadium, on September 10.
"Playing at the Big House is a great opportunity for our student athletes as well as great exposure for the University of Hawaiʻi and our football program," said UH Mānoa athletics director David Matlin to local media when the matchup was first announced in late October. "We have tried to focus on scheduling more guarantee games and playing at Michigan is a great game for us."
It will be the fourth meeting between the schools with UH making its first visit to "The Big House" in 2016. Future opponents for the Rainbow Warriors include historical rival BYU and Pac-12 Conference teams Arizona, UCLA, Oregon, Arizona State and Oregon State.
View the future football schedules for the UH football team.