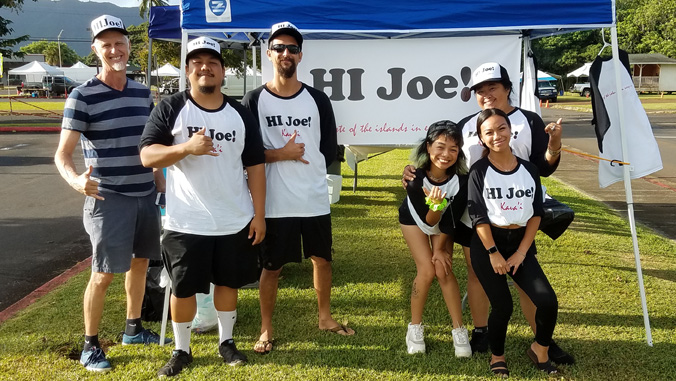 A Kauaʻi Community College assistant professor and his entrepreneurship students have received significant coverage in Forbes. Contributor John Greathouse, a partner at Rincon Venture Partners, recently gave a guest lecture in Dirk Soma's entrepreneurship class at Kauaʻi CC, then interviewed Soma and some of his students.
The article highlights the students' capstone project HI Joe!, a pop-up coffee shop they operate at the Saturday Kauaʻi Community Market. In it, Greathouse also refers to Soma as "a respected scholar in the area of Cultural Entrepreneurship."
Soma is quoted as saying, "HI Joe! resonates on a couple of levels—first, as equal partners in this venture, my students and I have established a culture of mutual respect and a sense of commitment to our mission to provide only 100% Hawaiʻi grown and roasted coffees. Though this increases our product cost, we stay true and don't look at selling blends.
"Second, we come to the table with ideas and suggestions that are discussed, vetted and agreed upon by consensus, which aligns with our values of openness and inclusion. Third, HI Joe! supports our local coffee growers and shares their stories with our customers. By promoting and selling locally-sourced coffee, we can perpetuate sustainability and provide incremental income to local coffee producers."
Soma and his students were recently named winners at the annual conference for National Association for Community College Entrepreneurship (NACCE). Two Kauaʻi CC students placed second in the Student Entrepreneurship Challenge: Solutions for a Sustainable Life. Soma was part of a collaboration whose Sustainable Building Construction Technology proposal was awarded $15,000 from the Philip E. and Carole R. Ratcliffe Foundation as part of another nationwide contest, the 2019 Pitch Competition for the Trades.