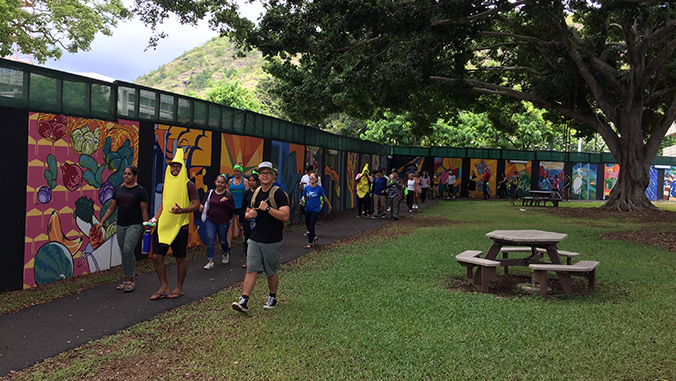 According to the American Cancer Society, smoking causes an estimated 480,000 deaths every year, and more than 16 million Americans live with a smoking-related disease. People who stop using cigarettes and vape products take an important step toward a healthier life.
In celebration of the annual Great American Smokeout, a day designated by the American Cancer Society to encourage smokers to start their journey towards a smoke- and vape-free life, the University of Hawaiʻi at Mānoa will hold a free health and wellness event, Quit the Nic on Thursday, November 21, from noon to 1:30 p.m. along McCarthy Mall, The Walking Path. The event will feature prizes, giveaways, resources and more.
From noon to 1 p.m., students, faculty and staff participating in this "moving health fair" will also distribute Quit-the-Nic kits along the one-mile walking path. The kits include health promotion swag and information to help smokers and vapers quit, and for friends and family who want to help.
Award-winning Walking Path
Quit the Nic will showcase the creation of a tobacco-free campus community walking path at UH Mānoa. Opened this fall, the one-mile walking path along McCarthy Mall provides students, employees and visitors with an opportunity to enjoy the beautiful campus by taking a tobacco-free one-mile stroll, speed walk or jog for clean air and good health.
The one-mile loop is marked with 30 bright yellow and blue signs with the start and ending point located by Keller Kiosk, a spot on campus previously known as a place where tobacco users would go between classes to smoke and vape.
The UH Mānoa campus was recognized by the American Cancer Society for the creation of the walking path and received the Outstanding Innovation in Campus Education and Engagement award.
"The walking path and its location signify the hard work put toward achieving a tobacco-free campus community at UH Mānoa and that there has been a permanent shift toward healthier behaviors with more people choosing to now go out for a walk, not for a smoke," said Kristen Scholly, health promotions chair at University Health Services.
The event and the walking path are part of UH Mānoa's Smoke-Free Campus Initiative and is supported by The American Cancer Society Tobacco-Free Generation Campus Initiative grant. It is a collaborative effort by UH Mānoa offices such as communications, parking, facilities, health services, and others.