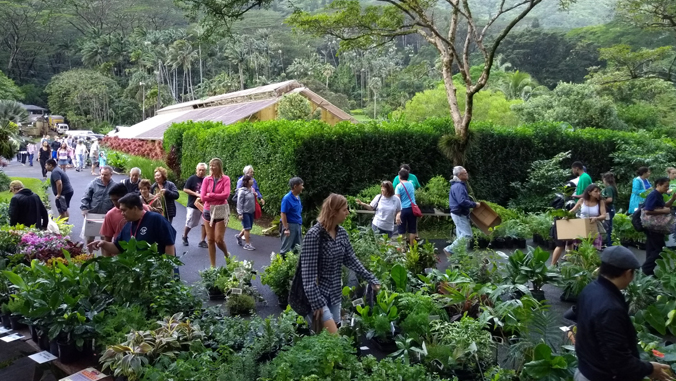 The University of Hawaiʻi at Mānoa Lyon Arboretum is gearing up for its popular biannual plant sale on Saturday, November 23 from 9 a.m. to 3 p.m. featuring a new craft-fair atmosphere.
Local nurseries will offer a variety of plants including native plants, Polynesian crops, ornamentals, edibles, carnivorous plants, succulents and orchids. New to the plant sale are local crafters selling handmade products including holiday wreaths, jewelry, Hawaiian honey, all-natural cosmetics, hand-made apparel and wearable art. In addition, food and Lyon Arboretum merchandise will be available for purchase. Proceeds will help to support the arboretum's programs.
Food trucks and tents will offer a variety of items for sale, including freshly made malasadas. Keiki activities and free garden tours make it a fun day in the garden for the whole family. Visitors will enjoy the improvements made on the grounds, including a beautiful new gate and grand stone-wall at the entrance to greet guests.
For more information, call (808) 988-0456 or visit the Lyon Arboretum website.
Parking information
Shuttle services will be available on the day of the event where Nipo and Poelua Streets meet Mānoa Road. Shuttles will run continuously from 8:30 a.m to 3 p.m. No parking is allowed at the arboretum, except for individuals with official disability parking placards.
Shuttles will also be available from UH faculty housing; reservations are required. Shuttle pickup times are 8:30 a.m., 10 a.m. and noon. Drop offs to faculty housing are at 10 a.m., noon, 2 p.m. and 3:30 p.m.
Visitors are also welcome to walk up to Lyon from upper Mānoa neighborhood.