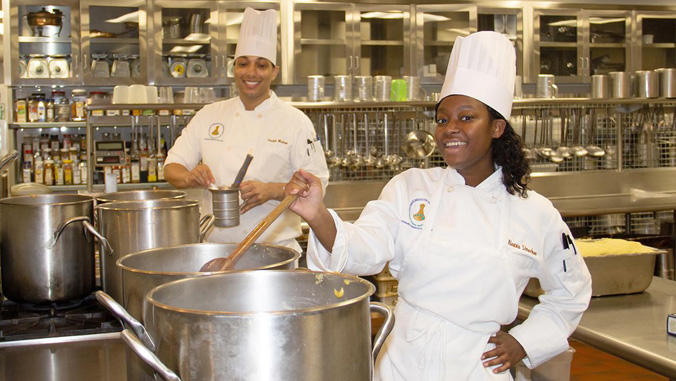 How much gravy do you prepare for 4,000? Leeward Community College Chef Instructor Chris Garnier knows the answer. In the pre-dawn darkness of Saturday, November 23, Garnier and fellow culinary faculty, staff and students arrived on campus to make 100 gallons of gravy for Ko Olina's Thanksgiving Outreach program. The perfect accompaniment for the turkey they prepared earlier. After endless whisking and stirring, tasting and seasoning, it was ready to be poured into containers and loaded on the truck alongside the 1,800 pounds of sliced turkey.
For the past 17 years, Leeward's Culinary Arts program has played an important role in the Thanksgiving outreach. They are part of a growing number of volunteers that pitch in to prepare and distribute Thanksgiving dinners to deserving families from Pearl City to Waiʻanae.
This year, the faculty and students prepared turkey and gravy for 4,000 dinners. The Four Seasons Resort provided the side dishes; Aulani, A Disney resort, provided the desserts; and UPS contributed the trucks and drivers for distribution.
In 1988, the program reached about 100 people and has grown to its current size, feeding 4,000 people at 16 area churches, community centers and veterans organizations on the leeward coast. Jason Fernandez, Leeward's culinary lab manager, has been involved since the beginning, when he was working at Ko Olina in 1988. Fernandez shares, "It was so small back then, and now, so many people are helping. It wouldn't be the holidays without this event."
Leeward CC Chancellor Carlos Peñaloza dropped by to thank the students and faculty for their work on this amazing community event. The 20 students who came in to help were delighted to have their work recognized.
Garnier adds, "When we see all the food packed up and ready to go, I think we all realize how great it is to help make the holidays special for so many people!"
More photos of the morning's activities on Leeward's Flickr page.
—By Kathleen Cabral