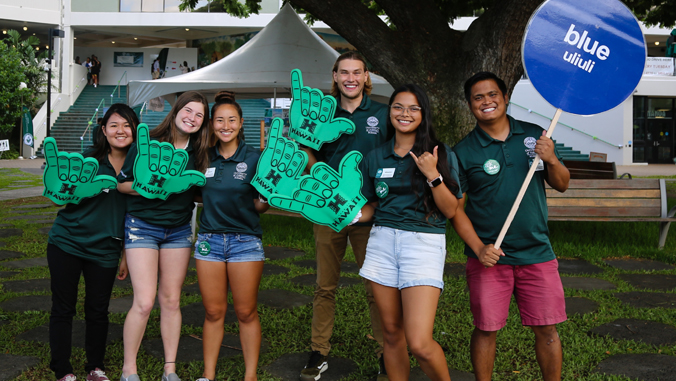 More than 750 Hawaiʻi high school students in grades 9–12, along with their parents and family registered and attended Explore Mānoa on Sunday, November 24, at the University of Hawai​ʻi at Mānoa's Campus Center.
The event, hosted by the UH Mānoa Office of Admissions, introduced prospective students and families to the vast opportunities on the Mānoa campus. Attendees met with faculty and staff from academic programs and student services and could complete their applications that day.
Six new workshops were offered covering topics such as financial aid, scholarships, national and international student exchange programs, and "how to' workshops on choosing a major and getting into college. Tours of the campus and residence halls were led by current students, guiding attendees in both the campus and residential experience.
"We took a new approach this year in how we outreach to our local community, to educate about college while showcasing Mānoa," said Abigail Huliganga-Hurgo, associate director of recruitment. "The addition of the six new workshops were created not only for the high school senior but also for parents and younger high school students."
Pearl City High School senior Kekoa Mostoles shared, "It was amazing to see the variety of programs and learn about whatʻs available at (UH Mānoa)." Kekoa's mom, Cheryl Mostoles responded, "I can't believe the number of resources. You can do anything here."
The event received record attendance with a 50 percent increase from the year prior. With more than 95 percent attendees from Hawaiʻi, there were a handful of prospective students visiting from New York, Texas, California, Arizona and Colorado.
"Explore Mānoa is an opportunity for our Mānoa campus to come alongside our local community to prepare high school students for college," stated Ryan Yamaguchi, associate director of admissions. "Parents play a major role throughout the college process and this event was designed to expose high school students and their parents to a variety of opportunities found at Mānoa, while providing an insider's perspective, tips, how-tos. We want to partner with students and parents in meaningful ways."
Deadlines for scholarships and admittance for fall 2020 are:
January 5: Priority deadline for fall 2020
January 15: New Warrior Scholarships application deadline (Regents, Provost Achievement, Mānoa Excellence and Mānoa International Excellence)
For more information about admissions and to apply, visit UH Mānoa admissions website.