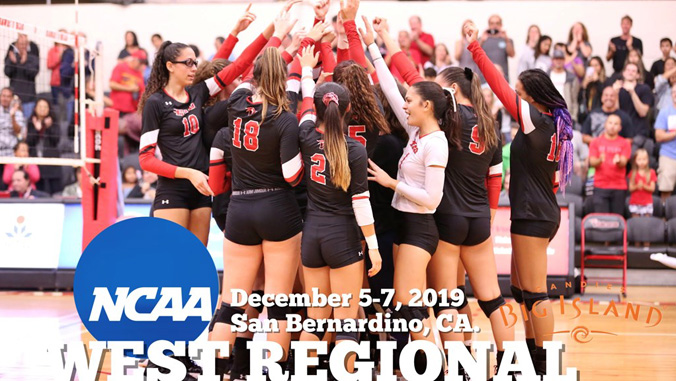 The University of Hawaiʻi at Hilo Vulcans qualified for the NCAA West Regional Tournament as the No. 7 seed and will be headed to California State University (CSU), San Bernardino, December 5–7 for the tournament. The Vulcans will face No. 2 seed Western Washington, a rematch of their previous game on September 14.
"I am super proud of you guys," said Head Coach Chris Leonard to his team. "This is a big step forward for our program. But we are not content to stop here. We know that we are capable of playing with anyone in the country, and our goal is to try and bring back a title."
This is the sixth time in UH Hilo volleyball history that a Vulcan team has qualified for the NCAA tournament with the last time being in 2011, also at CSU, San Bernardino. The Vulcans finished second in the PacWest with an 18-4 record and won six of their final seven matches to help secure the berth.
"This is an exciting time not only for our volleyball program but for Vulcan Athletics in general," said UH Hilo Athletic Director Patrick Guillen. "Their success is our success and it should motivate our other programs to desire the experience of NCAA post-season play. I am incredibly proud of our volleyball team and the wonderful job our coaching staff has done with this program, led by Interim Head Coach Chris Leonard. I am also very grateful and appreciative of our fans and our wonderful Hilo community that has supported us this entire season."
For the full story and history of the UH Hilo Vulcan volleyball championships, visit the UH Hilo Athletics website.