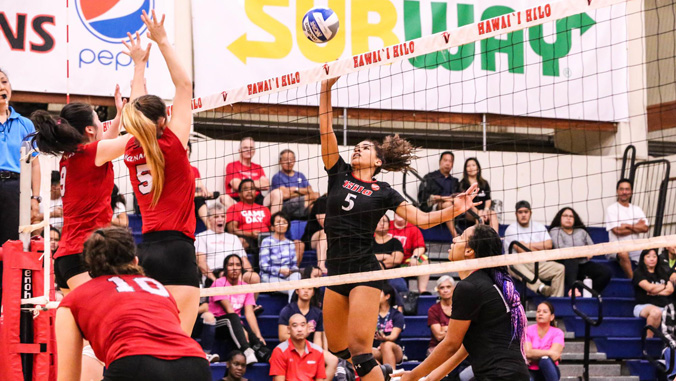 Junior volleyball player Bria Beale and junior men's basketball standout Sasa Vuksanovic are the University of Hawaiʻi at Hilo Pepsi Athletes of the Week for the first week of December.
Outside hitter Bria Beale helped lead her team to the NCAA Regional Tournament for the first time since 2011. Beale had 15 kills and seven digs in a three-set loss to No. 4 nationally ranked Western Washington, and earlier in the week she was named to the D2CCA All-West Region First Team. Beale was the first Vulcan to be honored since Hillary Hurley gained the same award in 2011. Beale led the PacWest in kills (439), kills per set (3.69), points (499) and points per set (4.19).
Center Sasa Vuksanovic had a pair of big games in the first two Pacific West Conference contests of the year for the Vulcans. Vuksanovic played a big role in UH Hilo's upset of Azusa Pacific on December 2 in Hilo, putting up 22 points, four rebounds, five assists, a blocked shot and a steal. He also helped the Vulcans try to do the same against PacWest preseason favorite, Concordia, before the Eagles pulled away late in the contest. Vuksanovic had a double-double with 20 points, 10 rebounds, three assists and two steals.
Read more at the UH Hilo Athletics website.