Taking a temporary hiatus from college turned into a three-year break that left Jo-Ann Payongayong feeling overworked, tired and unfulfilled. Payongayong left school with the intention to work full-time to financially support her family and give her younger siblings the opportunity of higher education. After three years, she knew there was more to life than the day-in, day-out drudgery.
"When you're doing the daily (work) grind for years, you wonder, is this really all that there is?" recalled the Kapolei resident, 27. "That's when it clicked. I thought, I probably should go back to school to open the opportunity of something more."
Payongayong enrolled in the University of Hawaiʻi–West Oʻahu in fall 2017, and two years later, she will receive that "something more" in the form of a college diploma. At the UH West Oʻahu fall commencement ceremony on December 14, she will graduate with a bachelor of applied science with a concentration in psychology.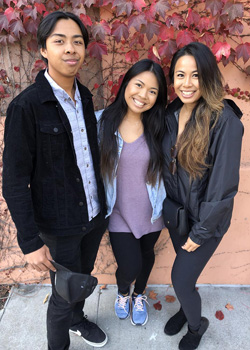 Payongayong's time at UH West Oʻahu didn't come without any obstacles, one of the biggest being a major car accident in Las Vegas on August 4—right before the start of her last semester.
Payongayong and her cousins were on their way to California when the car they were in was T-boned by a big rig. Payongagong suffered two fractured bones in her back. It took months for her to physically and mentally heal, but she persevered. The accident helped put things into perspective for her.
"Life is so short," Payongayong said. "Why waste time not doing what you want to do?"
"UH West Oʻahu has provided opportunity to me that I didn't think would ever be for me," Payongayong said. "It's been a place of growth, it's been a place of happiness and love, and it's just molded me into this person who I wouldn't have recognized a couple years ago."
Read more on Payongayong's educational journey and personal sacrifice at E Kamakani Hou.
—By Zenaida Serrano Arvman, public information officer, UH West Oʻahu