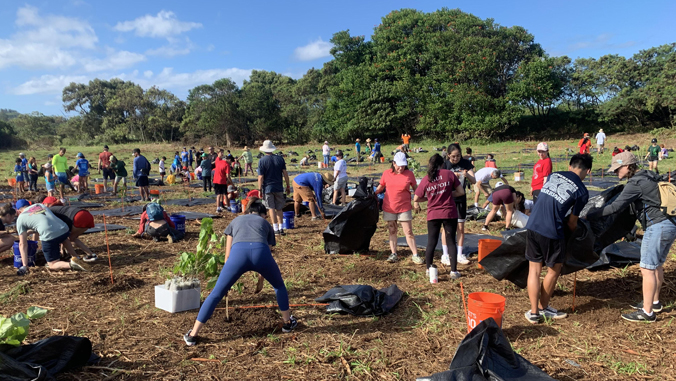 Close to 2,000 volunteers joined forces on December 7, to plant 10,000 native trees as part of the Carbon Neutrality Challenge, a joint project led by University of Hawaiʻi at Mānoa College of Social Sciences Associate Professor Camilo Mora and numerous organizations.
Mora's project aims to test the feasibility of restoring local ecosystems to offset all of the state's carbon emissions. Last October, the project held its first proof-of-concept event and planted a record-setting 1,000 trees in two hours.
This year, the goal was raised to 10,000 trees to demonstrate the state's ability to scale up restoration, and plant trees towards the million needed to position Hawaiʻi as the first place in the world to fully offset its carbon emissions via ecosystem restoration. Planted trees included koa, kou, lonomea and wiliwili.
The Carbon Neutrality Challenge project expressed its thanks to the many individuals who helped make the event a success: Hawaiian Legacy Forest at Gunstock Ranch in Kahuku for access to the land and facilitating equipment and volunteers for the event; the Harold L. Lyon Arboretum and Foster Botanical Garden for the seeds; the UH Mānoa College of Tropical Agriculture and Human Resources for access to the Magoon Research Station for propagation of the seeds; the Garden Club of Honolulu for help in propagating and maintaining the seedlings; and many other volunteers such as Waimea Valley, the Koʻolau Mountains Watershed Partnership and 350 Hawaii.