A University of Hawaiʻi at Hilo graduate student is collaborating with researchers to save the palila (Loxioides bailleui), a species of Hawaiian honeycreeper.
The songbirds were once found on Kauaʻi and Oʻahu, but are now confined to a small habitat on the upper slopes of Maunakea on Hawaiʻi Island, where they eat the seeds of the native māmane tree (Sophora chrysophylla). UH Hilo's Alex Bischer is studying the palila, which is considered critically endangered, with fewer than 1,000 individual birds remaining in the wild.
"One of the main drivers of their drop in numbers is the loss of habitat," says Bischer. "The palila used to be found all over the subalpine habitat wherever you could find the māmane tree, which is their main food source. The māmane has seed pods and the palila is the only animal on the island that can actually eat the seeds in the pod, so they're important for dispersing the seeds. But then sheep and other ungulates were introduced, and they eat everything they can reach, which means the trees can't regenerate. You have a bunch of older māmane forests, but as those die off, there's no regeneration, and that's been shrinking their habitat."
In May, Bischer joined a team of researchers at Puʻu Mali for the release of six palila that were hatched and raised at the Keauhou Bird Conservation Center. San Diego Zoo Global operates the conservation center as part of the Hawaiʻi Endangered Bird Conservation Program.
About Bischer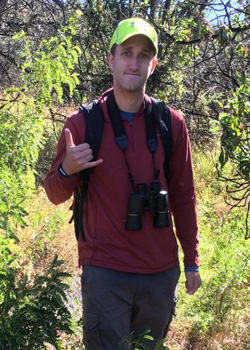 Bischer is a student in the professional master's internship track in the tropical conservation biology and environmental science program. The track is designed to prepare graduates to actively contribute as scientists in environmental and conservation agencies, nonprofit organizations and other institutions.
Bischer has an internship position with the Natural Area Reserves System, an agency of the State of Hawaiʻi housed within the Division of Forestry and Wildlife at the Department of Land and Natural Resources. The reserve system works to preserve rare endemic plants and animals, many of which are on the edge of extinction, on 21 reserves across five islands.
Read the full story at UH Hilo Stories.
—By Leah Sherwood, a graduate student in the tropical conservation biology and environmental science program at UH Hilo.