The University of Hawaiʻi at Mānoa women's volleyball team lost to No. 5 Nebraska Friday, in the Sweet 16 of the NCAA tournament in Madison, Wisconsin.
The Rainbow Wahine lost in straight sets to the Cornhuskers. Nebraska advances to face No. 4 Wisconsin, that beat Texas A&M earlier in the day. The two teams will play Saturday.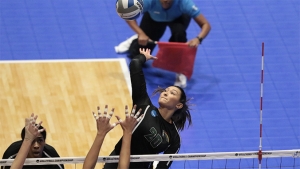 UH led the first set all the way to a set point, but were unable to convert.
UH was led by outside hitter Brooke Van Sickle, who matched her career-high of 14 kills, hitting .370. Senior Norene Iosia concluded a remarkable career with her 20th double-double of the season with 19 assists and 13 digs, along with six kills. Senior McKenna Ross also wrapped up her career by finishing with 10 kills and seven digs.
The Huskers were led by AVCA All-Region hitter Lexi Sun's 14 kills on .619 hitting. Jazz Sweet added 12 kills and three blocks. The Huskers hit .312 for the match, including .457 in the final set in which they went errorless in 35 attack attempts.
Read more about the match in Wisconsin.
The team (24-4 overall, 14-2 Big West Conference) had its most successful season under third-year Head Coach Robyn Ah Mow. UH finished the season with 24 wins.
The success earned the team a number of accolades. Ah Mow earned Co-Coach of the Year honors for the Big West Conference, splitting the award with Cal State Fullerton's Ashley Preston. Norene Iosia was named the Big West Player of the Year and rookie Hanna Hellvig garnered Freshman of the Year honors.