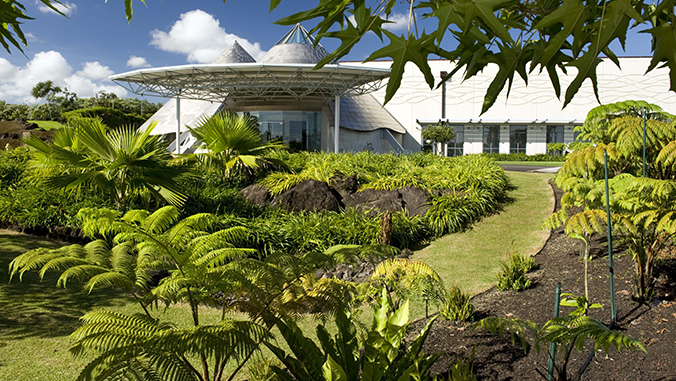 About 100,000 visitors trek to the University of Hawaiʻi at Hilo ʻImiloa Astronomy Center each year. The center's mission of educating the public on parallels between Hawaiian culture and western science is earning international recognition.
An article recently published in Nature Astronomy applauds ʻImiloa's ability to intersect indigenous knowledge with astronomy. The journal highlights the need for astronomical institutions to partner with indigenous communities, especially when native lands are involved. It also stresses the need for astronomers and native communities to collaboratively establish communication protocols before scientific facilities are developed.
ʻImiloa Executive Director Kaʻiu Kimura co-authored the article and hopes it will drum up more attention to cultural issues mounting within the field. "For this article on indigenous knowledge integration to be published, it raises the level of awareness to the importance of inclusion which hopefully results in greater diversification in scientific research," she explained. Nature is one of the most recognized science journals in the world.
Hawaiian students name astronomical discoveries
The article spotlighted the success of ʻImiloa's A Hua He Inoa project, which demonstrates how Hawaiian language or ʻŌlelo Hawaiʻi is merging with scientific knowledge. The project gives Hawaiian speaking students an opportunity to name astronomical discoveries made on Maunakea.
"We are perpetuating traditional Hawaiian naming practices to give life and identity to the celestial bodies we count as part of our extended ʻohana—family. By bringing ʻŌlelo Hawaiʻi to the forefront of Maunakea astronomy, we keep the history of the mountain and our culture alive, while also bringing deeper cultural meaning to the scientific progress we have made in recent years. There is so much more to be done," explains Kimura.
Kimura made her voice heard when she addressed 2,000 world-class astronomers in Seattle this past January at the American Astronomical Society conference. She was part of a keynote presentation about telescopes on Haleakalā and Maunakea discovering the first known interstellar object passing through the Solar System. The odd object was eventually given the Hawaiian name, ʻOumuamua, which means "first scout or messenger from a distant place." Kimura's message earned a standing ovation after she highlighted ʻImiloa's mission of merging culture with astronomy to inspire more students to love science.
ʻImiloa plans to host more culturally based scientific summits for both teachers and students. There is also interest in developing curriculum based on discoveries and Hawaiian names.
Learn more about the ʻImiloa Astronomy Center at UH News.
—By Moanikeʻala Nabarro