A book by a University of Hawaiʻi at Mānoa anthropologist about the venerable and still popular custom of burning paper replicas of money has been translated into Chinese. Burning Money: The Material Spirit of the Chinese Lifeworld was written by C. Fred Blake, a longtime professor of anthropology in the College of Social Sciences who passed away on April 19, 2017. He was granted emeritus status posthumously by the UH Board of Regents.
The book's English version was first published in 2011 by UH Press. The Chinese version (simplified Chinese characters) was printed in 2019 by Jiangsu People's Publishing House, a top academic publisher in China. It was selected by Tsinghua University and was included in the highly reputable Anthology of Western Studies of China.
There has been expressed interest in publication of Blake's other research works on topics including foot-binding, ethnicity, gravestones and epitaphs, and the origins of Chinese-American communities. In addition, a Taiwanese publisher has just begun negotiations with UH Press on the traditional Chinese character translation of Burning Money.
"The original book was welcomed by scholars and students of religion and culture for its innovativeness in interpreting the common ritual in Chinese religion," said College of Social Sciences Dean Denise Eby Konan. "The book's translation into Chinese will lead to scholars, religion specialists, anthropologists and students in China learning about Dr. Blake's contemporary social theory."
The simplified Chinese character edition has received cross-disciplinary attention since its publication and inspired widespread academic discussion. It is recognized as one of the top-ranked books in several lists of academic works, and has been acknowledged by some Chinese and Taiwanese anthropologists as a must-read on folk customs and religions.
An expert in a highly specialized field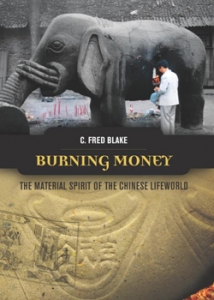 Starting in the 1990s, Blake conducted fieldwork and research on the burning of paper money in Beijing, Shanghai, Hong Kong and other provinces, and Hawaiʻi. He explored the cultural logic and social-economic formations of the practice while addressing larger anthropological questions concerning the nature of value, economy, production and reproduction, and the human relationship, said his wife Li Blake, who had and maintains a major role in the Chinese translations of his book.
"As an anthropologist specializing in China, he appreciated that his book finally returned to the site where he spent about 20 years doing field work, thinking and writing. His ingenious analyses shed light on paper-money tradition existing thousands of years ago, yet a seeming blind spot of research both within and outside China," said Li Blake. "He also tried to integrate the Chinese native yin-yang concept into his theoretical interpretation. In terms of ethnomethodology, his study was among the first to critically use the internet and the Chinese blogosphere as an ethnographic resource in the study of contemporary China."
More about Blake
Blake earned his BA at UH Mānoa, his MA degree at Washington University in St. Louis, Missouri, and his PhD at the University of Illinois, Urbana-Champaign. He was a member of the UH Mānoa faculty from 1974 to 2017.
As a teacher and mentor, he served on numerous PhD and MA committees in the departments of anthropology, sociology, political science, history, American and Chinese studies and music, as well as the Office of Public Health Studies and the College of Education.
He made significant contributions to the East-West Center (EWC), and mentored and hosted many students from the U.S., China, Taiwan and Vietnam, among other countries. He received a certificate of appreciation in spring 2016 from EWC in recognition of his valuable contributions, including its associate mentoring program.
Blake also taught on mainland China and in Hong Kong, gave keynote presentations at annual Chinese advanced forums on anthropology, and had his conference proceeding papers translated by his wife into Chinese, which were consequently published in top academic journals in China.
He taught up to two weeks before his passing, unaware that the fatal disease of hepatic amyloidosis had quickly progressed to its terminal stage.