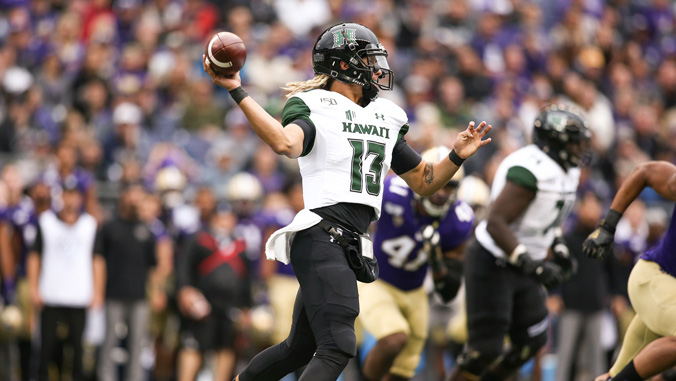 A University of Hawaiʻi at Mānoa quarterback has made the decision to forgo his senior year and enter the 2020 NFL draft.
Junior Cole McDonald announced on January 8 in an Instagram post that he will be pursuing his dreams of playing for the NFL after having discussions with his family and coaches. The La Mirada, California native has played as a Rainbow Warrior since 2016. He redshirted in his freshman year to hone his skills as a quarterback.
McDonald has notable achievements on the UH Mānoa team, such as a Mountain West honorable mention and offensive player of the week, and 40 touchdowns—the fifth most in UH single-season history.
He appreciates his time in Hawaiʻi and expressed his gratitude for everyone on the Rainbow Warrior team, as well as his friends and family.
"I will forever be grateful to the University of Hawaiʻi for being the only school to offer me the chance to play Division I football," said McDonald, via Instagram. "I will always carry Hawaiʻi on my arm, but more importantly, Hawaiʻi will always be in my heart."
After his announcement, the UH coaches gave McDonald their well-wishes via Twitter.
"Thank you for your dedication, hard work, memories and setting the standard!" said quarterback coach Craig Stutzmann. "Stay focused, stay relaxed, but most importantly have fun! Good luck China."
China was a nickname given to McDonald by the UH team.