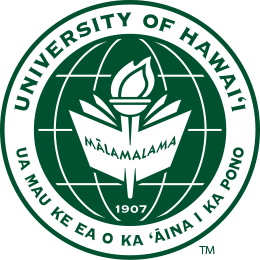 Aloha University of Hawaiʻi at Mānoa Community,
We are writing together, as President and Provost of UH Mānoa, to recognize the significance of this day in Hawaiʻi's history. As our jobs require the provost to look inwards towards campus and the president to focus outwards, we realize that the January 17, 1893, overthrow of the Hawaiian Kingdom is an event that has impacts on both our internal as well as our external communities. Therefore, we are pausing to reflect on this day together.
We want to first acknowledge that there is still much for us both to learn about the overthrow of the Hawaiian Kingdom and we are committed to that learning. For example, we both just completed a two-month cohort program exploring the structures of racism, settler colonialism, and how educational institutions have upheld those structures in Hawaiʻi and elsewhere. That is just one piece of our continuing commitment to learn from and about this place.
As many of us know, the overthrow of Queen Liliʻuokalani and the Kingdom of Hawaiʻi and the consequences that followed this pivotal event profoundly affected the well-being of the Native Hawaiian people, the communities of who call Hawaiʻi home, and the natural environment of these islands. We have heard and witnessed that the consequential trauma of the overthrow was not just experienced by those living in Hawaiʻi in 1893 but is still experienced by many today, most notably by Native Hawaiians.
We have also witnessed that we can learn much about truth, healing, and transformation from those most severely impacted by the overthrow. Their experiences can also teach us about resilience and hope. Every day we learn from our communities about the love for Hawaiʻi held by so many, and the commitment to (re)creating a Hawaiʻi that is rooted in values and action like aloha, mālama ʻāina, and ʻohana. For that we are truly grateful.
Finally, and particularly relevant today, our first-hand experience as non-Hawaiian immigrants tells us that learning more about the overthrow and understanding its impacts on Hawaiʻi and its people can be uncomfortable. Yet as people devoted to education, we have also witnessed how spaces of aloha and empathy engage people in learning more and appreciating one another deeply, even in the face of profound disagreements. We are committed to creating such opportunities for all who are willing to learn more about the difficult parts of our history and in so doing, to utilize the power of community, education and aloha to heal.
Mahalo nui,
President David Lassner and Provost Michael Bruno
Below are two useful resources, familiar to many but not all in our UH Mānoa community.