If you were to watch New York-based neurosurgeon Kathryn Ko at work, you would likely notice the expert precision of her hands as she navigates the delicate anatomy of her patients. You might sense her acute concentration and ability to maintain focus while remaining attuned to her surroundings. You may even notice her mastery in handling surgical tools with both her left and right hand, a skill she developed while a second year student at the University of Hawaiʻi at Mānoa John A. Burns School of Medicine (JABSOM).
These same skills are not limited to her work in the operating room—they carry over into the art studio.
"My art is closely tied to medicine," said Ko. "I can go from the operating room into the studio and some of the same ideas, challenges, failures and successes carry over from the scalpel to the paintbrush. It creates a continuum of thought and feeling which brings balance and richness to both sides."
A graduate of Kalani High School, Ko earned her bachelor of arts degree in zoology and her medical degree from UH Mānoa. She moved to New York to continue her education and pursue her interest in neurosurgery. Ko became the first female JABSOM graduate to become a neurosurgeon. After completing her residency, she went on to work in several level one trauma centers in New York City. She now has more than 30 years of emergency surgery experience.
Around mid-career, Ko was serving as chief of neurosurgery at a level one trauma center in the Bronx when she began to feel that something was missing in her professional life. On a whim she took a few beginner's courses in painting at a local YMCA and slowly realized her passion for art. She later went on to earn a master of fine arts degree in representational painting.
"My art isn't specific to any particular patient," added Ko. "What's more important is the message; the message of survival, of challenges, and of the fight. It's an important message that as a surgeon, is not easy to communicate to the world. I'm able to articulate this better on canvas."
The power of kindness
Reflecting on her time at UH, she credits the medical school with teaching her the importance of kindness and respect.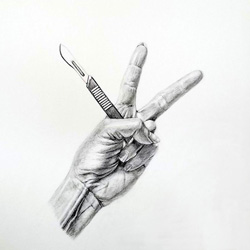 "Being from Hawaiʻi, kindness and aloha are sort of inherent in your nature, but the medical school really emphasized these values," said Ko. "I think that's what set me apart and allowed me to be successful in a place like New York City."
Ko's ambidexterity also came about as a result of her coursework at JABSOM. To improve her concentration during the long and extensive lectures, she trained herself to write with her left hand—something that less than 1 percent of the population can do naturally.
Looking back, she believes her ambidexterity may have been the key to unlocking her passion for art.
"I think my career became richer and more balanced after I went into art," added Ko, "and I think a message to the younger generation is don't be boxed in. In this short life, you shouldn't leave any dream untried."
Kathryn Ko can be found as @doc_ambidexter on Instagram and Figure 1 (a medical app similar to Instagram). Additional details about herself and her work can be viewed on her website.
—By Kapiʻolani Ching