The University of Hawaiʻi Community Design Center (UHCDC) was awarded two national American Collegiate Schools of Architecture (ACSA) Awards. UHCDC received recognition in the Practice + Leadership and Collaborative Practice categories.
UHCDC, in the School of Architecture at the University of Hawaiʻi at Mānoa, is a novel government-partnered public-interest teaching practice that gathers faculty, staff, students and allied professionals on work related to Hawaiʻi's built environment.
The jointly selected 2020 ACSA/American Institute of Architects Practice and Leadership Award honors "best practice examples of highly effective teaching, scholarship and outreach in the areas of professional practice and leadership. " The UHCDC projects partnered students with 12 state agencies, providing them with a statewide perspective on housing, transportation, infrastructure, coastal resilience, resource protection, incarceration, and cultural resilience, among other issues.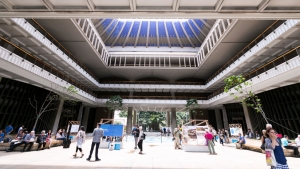 "Our partnership with the state has resulted in relationships and opportunities that have allowed our faculty and students to explore our full potential as a Hawaiʻi-serving resource," said Cathi Ho Schar, UHCDC director.
"I am proud to be a part of the team at the University of Hawaii Community Design Center. The UHCDC is an extremely valuable initiative for everybody at our school," said Karla Sierralta, assistant professor in the School of Architecture. "Students benefit from gaining experience solving real-world problems and find making a positive impact in their communities inspiring," she added.
The UHCDC Waipahu Collaboration Team received the 2020 ACSA Collaborative Practice award, which honors "best practices in school-based community outreach programs." They collaborated on six classes and eight research projects on work related to transit-oriented development for the Waipahu station areas, including a strategic planning study, planning assessment, ecological hazards study, ecological asset study, infrastructure and transportation study, tree canopy study, flood mitigation guidelines, digital optimization model, housing and block study, a design considerations booklet, and numerous community outreach events and presentations to various city and state agencies and professional organizations.
The team is comprised of eight faculty members from the School of Architecture, Department of Urban and Regional Planning, Public Policy Center and the Sea Grant College Program: Priyam Simon Bussiere, Priyam Das, Wendy Meguro, Colin Moore, Hyoung-June Park, Cathi Ho Schar, Suwan Shen and Daniele Spirandelli.
"This community-university partnership facilitated a deep learning and teaching experience that was very well aligned with our broader efforts to encourage a scholarship of engagement," said Das, associate professor and Department of Urban and Regional Planning chair. "The neat thing about this collaborative endeavor is that the range of topics we were able to explore—climate adaptation, affordable housing, placemaking, community-based economic development, land-use and transportation—was not only immensely instructive from a pedagogical perspective but it allowed us to provide service to the public agencies involved."