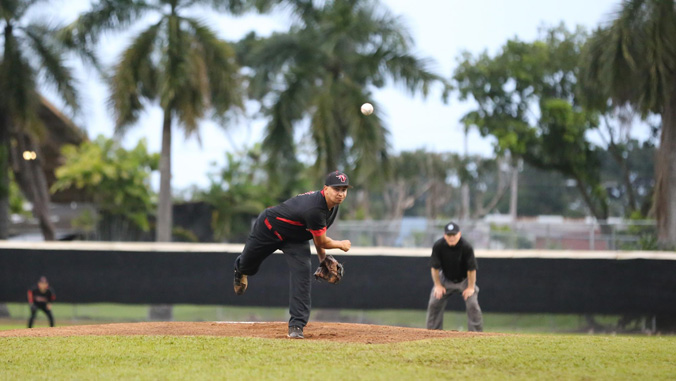 The University of Hawaiʻi at Hilo awarded senior pitcher Christian Sadler and high-scoring basketball forward Allie Navarette the title of Pepsi Athlete of the Week for the first weekend in February.
Christian Sadler helped the Vulcan baseball team win its season opener with a 6-3 victory over Hawaiʻi Pacific. Sadler entered the game with his team trailing 2-1 in the top of the fourth, and he proceeded to shut down the Sharks for the next four innings. He gave up one hit and no earned runs, and also induced six fly ball outs and one ground out. In two of his four innings, his offense put runs on the board to put him in a position to earn the win. The Vulcans went on to win two games against the Sharks, beginning their PacWest season at 2-0.
Allie Navarette put together her two highest scoring games of the season in a 48-hour period, helping to land her the Pacific West Conference Player of the Week award and the Pepsi Athlete of the Week. Navarette equaled a Vulcan record with a career-high 34 points in a 74-64 loss to Academy of Art on Friday night and added 31 points on Sunday during a 62-55 victory over Chaminade. Two nights later against the Silverswords, Navarette equaled another Vulcan record with 12 of 18 shots from the field. For the pair of games, she knocked down 23 of 36 shots (64 percent) and dropped in 19 of 22 free throws (86 percent).
For the full story, visit the UH Hilo Athletics website.