Michael D. Nakasone's extraordinary musical journey of more than 50 years—including a distinguished 37-year career in Hawaiʻi's public schools and his current role as bandmaster of University of Hawaiʻi–West Oʻahu's University Band—has lead to among his biggest life achievements: induction into the National Band Association Hall of Fame of Distinguished Conductors.
"Being a bandmaster is the greatest occupation in the world," said Nakasone, who is also bandmaster emeritus of the famed Royal Hawaiian Band. "This Hall of Fame is the greatest honor of my life. To be among the greatest bandmasters is truly unbelievable."
The National Band Association (NBA) inducted its two newest members of the their Hall of Fame—Nakasone and David Gregory, the founder and conductor emeritus of the Georgia Wind Symphony—at a special luncheon and induction ceremony February 1 on the campus of Troy University in Troy, Alabama, in the Hawkins-Adams-Long Hall of Honor, which houses the NBA Hall of Fame. The honor includes a painted portrait of the inductee to be hung in the hall.
Membership in the Hall of Fame is open to any American bandmaster in the United States, according to the NBA website. To qualify for nomination, a director has to be at least 65 years old, retired, and to have made a national reputation as a band conductor. The director must also have made a national impact on the American band movement. The NBA Board of Electors, which represents five national band organizations, then votes on the recommendation.
Nakasone co-directs the UH West Oʻahu University Band with Chadwick Kamei, who said he is thrilled that Nakasone is being inducted into the Hall of Fame.
"This award is a testament to his hard work in the public schools, the Royal Hawaiian Band and UH West Oʻahu," said Kamei, who is also the director of bands at Pearl City High School.
"He always has a positive teaching style and is quick to share his knowledge with teachers still in the trenches," Kamei said. "We are lucky to have him with our band and able to learn from him at each rehearsal."
Nakasone feels just as lucky.
"It is wonderful teaching the students in the West Oʻahu band," Nakasone said. "They are excellent musicians and it is an honor for me to be working with them."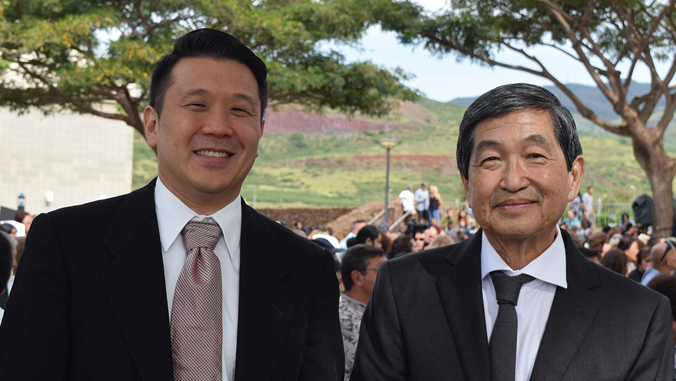 Read more at UH West Oʻahu's E Kamakani Hou.