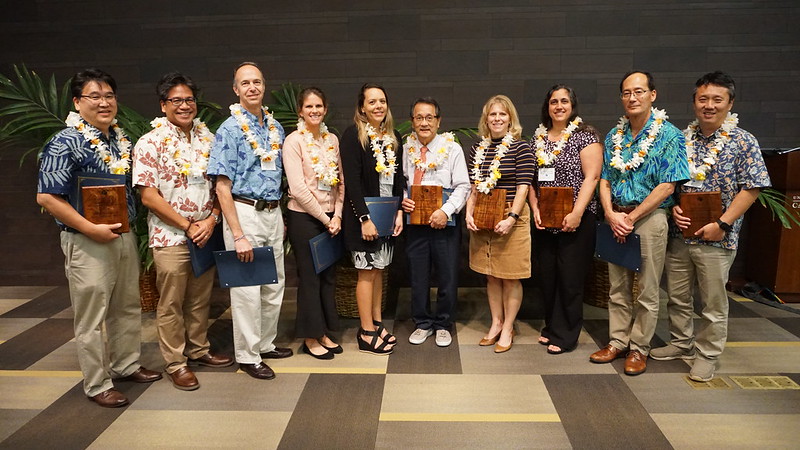 The University of Hawaiʻi Cancer Center (UHCC) recognized its community partners at the 2nd Annual Cancer Clinical Research UHCC Accrual Leaders event. Physicians, nurses and research administrators throughout Hawaiʻi were awarded for their efforts toward clinical research.
The UH Cancer Center coordinates clinical trials through the Hawaiʻi Cancer Consortium with oversight of trials at The Queen's Health Systems, Hawaii Pacific Health hospitals, Kuakini Health System and numerous private practitioners statewide.
"We are unique among National Cancer Institute-designated cancer centers in that we are completely community facing. We rely on our community partners to offer the best treatments possible through clinical trials," said Jessica Rhee, medical director of the UH Cancer Center Clinical Trials Office. "We are very grateful for all the efforts of community physicians because we wouldn't be able to do this without them."
Awardees were recognized for reviewing the validity and feasibility of clinical trial protocols, monitoring data safety, facilitating clinical trials and for successfully enrolling patients onto interventional clinical trials. Their efforts contribute to the UH Cancer Center's 20BY25 campaign goal of increasing clinical trial enrollment to 20 percent of all individuals with newly diagnosed and relapsed cancers in Hawaiʻi each year by 2025.
"The patients that we see in Hawaiʻi have been underrepresented in clinical trials and we really don't know much about the overall risk and risk profiles of our patients," said Erin Capps, The Queen's Medical Center radiologist and winner of a Platinum Accrual Award. "Bringing these trials to the patients of Hawaiʻi is so important so that we can better understand the disease within these patients, and how to better treat them in the future and develop treatments that are tailored to them."
View the full list of Clinical Trial Accrual Awards.
—By Nana Ohkawa