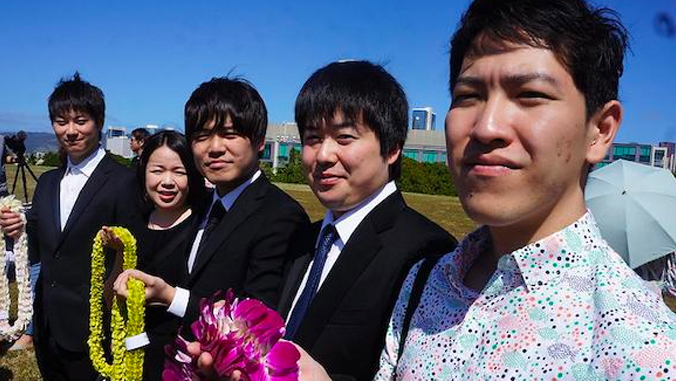 A medical doctor from Japan is learning how to improve his lifesaving skills at the University of Hawaiʻi at Mānoa John A. Burns School of Medicine (JABSOM) this month in a cultural exchange program borne out of the Ehime Maru tragedy 19 years ago. He is also among those who mourned the loss of the fishing boat crew in ceremonies at the Ehime Maru memorial at Kakaʻako Waterfront Park held in February.
Yusuke Tominaga was only 8 years old when the USS Greeneville, an American Navy submarine, surfaced unexpectedly in Hawaiʻi waters, toppling and sinking the Ehime Maru, a fishing boat from Uwajima Fisheries High School in Japan that was training high schoolers interested in becoming commercial fishers. Nine Japanese people, including students and teachers, died.
One of the dead was the father of Tominaga's friend. Tominaga is among a group of young doctors visiting UH this month in the first medical cultural exchange connected to the "sister city" friendship program created between Honolulu and Uwajima after the sinking of the Ehime Maru.
"The accident affected my life so much," Tominaga said through an interpreter at the medical school. "Having seen the accident I felt life, human life is so important. That became one of the key reasons I became a doctor—to save the lives of the people."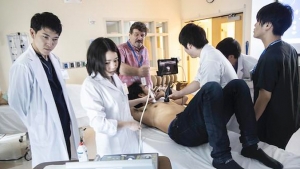 Hands-on courses at JABSOM
Tominaga and the other young doctors from Uwajima City Hospital have been taking hands-on classes in the patient simulation laboratory at JABSOM. It provides intensive, emergency room-style practice with both human patient volunteers and high-fidelity patient simulators. It is an intensive method of training different from the way Japanese doctors are taught—and something they find valuable.
"(This provides) more reality than Japanese situation, so we are very nervous, nervous, nervous and good for study, reality," said Keisuke Funaki, also training with Uwajima City Hospital.
The doctors are learning how to cope with patients experiencing shock, trauma and heart attacks, among other emergencies. They do not usually train in teams, another part of the American medical school training they say they find fascinating.
Their studies include lectures in addition to laboratory work. The visiting Japanese doctors also toured the medical school's Hyperbaric Treatment Center, which treats victims of ocean accidents. The Uwajima City Hospital Program Director and Chief of Cardiology Akiyoshi Ogimoto, hopes the medical cultural exchange will continue and even expand.
"I would like to expand this relationship to other professional people, American, not only doctors but nurses and other professions," said Ogimoto who is leading the student group.
On February 9, the young doctors brought flower lei to the Ehime Maru Memorial at Kakaʻako Waterfront Park, joining families of those killed in the boat's sinking 19 years ago in a formal ceremony. One by one the physicians, including Tominaga, stepped forward, placed their flowers on the chains surrounding the boat's anchor at the memorial, then bowed in reverence.
See more on the JABSOM website.
—By Tina Shelton