The artist behind an award-winning ceramic piece inspired by earthworm castings (waste) is exhibiting his work at the University of Hawaiʻi at Mānoa.
Koro Ihara, the grand prize winner of the Tokyo Midtown Award 2019, the annual art and design competition, presented his pieces in Koro Ihara: made in earth at the UH Mānoa Department of Art and Art History in February.
The winning ceramic piece called "made in ground," was inspired by earthworms, the holes they create and their castings. Ihara created a similar piece for the UH Mānoa exhibit, but instead of covering it with gold, he used silver.
"I've always been interested in the trace of what living animals leave behind," Ihara said through interpreter Marisa Takauchi. "What I wanted to do was create something from nature."
Ihara, born in Osaka, Japan, received his bachelor of fine arts from Tama Art University in 2011 and master of fine arts from Tokyo University of the Arts in 2013. In 2017, he completed a research fellowship in Italy and has had exhibitions displayed in Germany, Tokyo and Thailand. Wherever he goes, Ihara uses the earthworm castings in the region of the world that he is visiting.
"Having been exhibited worldwide is something that makes me happy for sure," Ihara said. "Since I am creating art using the castings of the earthworms, what they produce differs from land to land, so it's not that I am always showing the same thing, but actually it's unique depending on where I show it."
Ihara will deliver a free public presentation in the Art Building Room 101 on Wednesday, February 19, 6–7 p.m. and his artwork is in the Commons Gallery until February 20.
He has also been working on new art projects in the ceramics studio. Ihara explained the difference between showcasing his art in Japan and at UH Mānoa.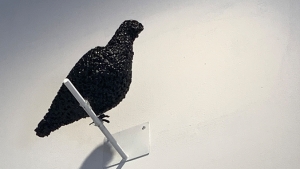 "In Japan, if it's an art university, it's only art students that are there. Versus over here, there are a lot of people from other majors. Having a show here where people outside of the art major can come and see is something that I really enjoy," he said.
Tokyo Midtown is a contemporary urban development that opened in 2007 in the center of Tokyo's Roppongi district. This is the seventh year that UH Mānoa has hosted the grand prize winner of its annual art and design competition.