"Kualoa's History of Aquaculture" won first place by Leigh Antoinette Medina, Kayley Lau and Mary-Rose Mitchell from Moanalua High School.
Winning student videos about aquaculture in Hawaiʻi were showcased recently at the Aquaculture America 2020 conference at the Hawaiʻi Convention Center. The competition inviting high school students from around the state to submit a short video addressing the theme, "Hawaiʻi Aquaculture: A Tradition of Navigating with Innovation, Technology, and Culture," was organized by the University of Hawaiʻi Sea Grant College Program (Hawaiʻi Sea Grant).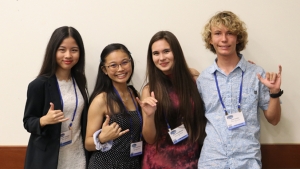 Cash prizes were awarded to the top three videos. First place received $1,000, second place $500 and third place $250.
First place: Leigh Antoinette Medina, Kayley Lau and Mary-Rose Mitchell from Moanalua High School, "Kualoa's History of Aquaculture"
Second place: Jack Vedder from Kaiser High School, "Aquaculture"
Third place: Lyrah Panarigan from Moanalua High School, "Garden in Paradise"
Maya Walton, program leader with Hawaiʻi Sea Grant and lead organizer of the video competition noted, "This was a great opportunity for high school students to make an impression on a global audience since aquaculture researchers and professionals from across the United States and the world traveled to Hawaiʻi to attend the conference."
The students' films were showcased at the conference, and scored by a panel of judges comprised of professionals working in various aquaculture-related industries throughout Hawaiʻi.
Students were required to compose their videos using only original work, and all genres such as documentary, animation, short interview, historical and others were accepted. The entries could focus on: traditional aquaculture in Hawaiʻi; how aquaculture contributes to a sustainable food supply in Hawaiʻi; the connection between science and aquaculture; and the importance of indigenous or local knowledge in aquaculture.