Piles of limu (Hawaiian seaweed) washing ashore or abundantly sprouting from rocky reefs is a sight that is quickly disappearing from the islands. Limu conservationists link the fading supply to a spectrum of causes like improper harvesting, climate change and even suffocating invasives. But interests in replanting and restoring limu in Hawaiʻi's waters are growing in a number of communities, and University of Hawaiʻi at Mānoa ʻōlelo Hawaiʻi (Hawaiian language) haumāna (students) are doing their part to support those efforts from inside the classroom.
Incorporating language into limu preservation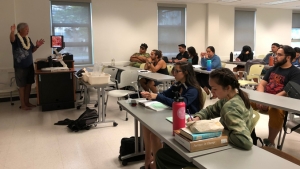 The non-profit organization Kuaʻāina Ulu ʻAuamo (KUA) recently asked haumāna to translate common terms associated with limu into Hawaiian, so practitioners can expand the use of the language in their work.
KUA facilitates the Limu Hui, a group of experts with cultural knowledge about limu working to preserve that knowledge and educate the public about the importance of restoration.
Haumāna translated simple phrases like, pae i ke one (washed ashore), ma luna o nā moku (on top of the rocks), ke ʻako limu (to gather limu) or ka pōpō limu (ball of seaweed).
The haumāna are enrolled in third-year ʻōlelo Hawaiʻi course, HAW 434: E Pū Paʻakai Kākou. The hands-on class taught by Kumu Kawehi Lucas studies traditional Hawaiian and contemporary food culture. UH Mānoa senior ʻEkolu Nakamaejo applauds efforts being made to include Hawaiʻi's native language with ongoing limu protection projects.
"Nui nō koʻu hauʻoli i ka makemake ʻana o nā loea e mālama i ka ʻōlelo Hawaiʻi ma o kā lākou mau hana koʻikoʻi, no ka mea e hoʻopili ana lākou i ke kaiāulu ma o ka nohona Hawaiʻi a he waiwai nō ke hana ʻia me ka ʻōlelo Hawaiʻi. (I think it's great that our cultural practitioners are wanting to incorporate the Hawaiian language into their practices because they're bringing together the community through the Hawaiian culture, and to be able to do that through the Hawaiian language is very valuable)," Nakamaejo said.
Limu healing powers, respected customs
On February 26, Limu Hui coordinator Uncle Wally Ito talked to the third-year Hawaiian language students about different limu strains, like ʻeleʻele, kohu and pālahalaha, a light green seaweed served with raw fish or sometimes added to soup. The marine biologist helped start the Limu Hui in 2014 at the request of kūpuna (elders) who were concerned that limu knowledge wouldn't be passed down to the next generation. Ito broke down how Hawaiians used limu medicinally. Women who had a difficult time conceiving were fed manauea. Children suffering from mouth sores were given līpoa. He also highlighted limu customs practiced in ancient Hawaiʻi. Eating limu lipeʻepeʻe was kapu (taboo) to hula dancers because it was believed they would slip and fall during a mele (song). Pakeleʻawaʻa, a black and slippery textured limu was said to be a favorite of Queen Liliʻuokalani. Ito was thrilled his presentation motivated haumāna to want to get involved with replanting opportunities at Hawaiʻi beaches. "That's what keeps me going. That's my motivation," Ito said.
UH Mānoa Hawaiian language student Kahoaliʻi Keahi also teaches at Chaminade University and is excited to share what he learned with students.
"Makemake au e aʻo i kaʻu mau haumāna i ia ʻike limu i mea a loaʻa ka lāhui ma nā kuahiwi laua o ke kai. (I would like to pass on this knowledge to my haumāna and hopefully get more of our lāhui not just in our forests but in our waters)," Keahi said.
Limu by any other name
According to Ito, there are more than 500 species of limu in Hawaiʻi, and a majority don't have Hawaiian names. Some believe a number of names were simply lost through the years. In the future, KUA is interested in working with UH Mānoa ʻōlelo Hawaiʻi students again to create names.
"He waiwai ka ʻike ʻana i nā inoa Hawaiʻi o nā limu i ka lehulehu. He hōʻoia hou aku kēia no ke kūlana kūhelu o ka ʻōlelo.(It would be valuable for the public to know the Hawaiian names of those limu. It is another validation of the status of the Hawaiian language)," Kumu Lucas said.
The organization also supports other mālama ʻāina hui like those that oversee the preservation and management of loko iʻa (fishponds). KUA is also considering asking haumāna to translate common terms associated with those efforts so the language can be utilized there too.
—By Moanikeʻala Nabarro