University of Hawaiʻi Maui College's Leis Family Class Act Restaurant is the No. 1 restaurant in the state according to online reservations hub OpenTable. Culinary Arts Program Director Teresa Shurilla sprinted up the stairs to share the news.
"We all started shouting about it because it's huge for our school to be voted number one against all the amazing restaurants that we have here in Hawaiʻi," Shurilla said.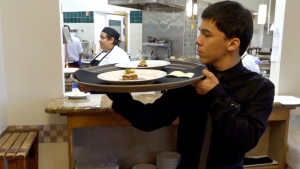 What's even more amazing is that the cooks and servers are all culinary students. And the restaurant hits the reset button every eight weeks with a new crop of students serving in the front of the house or cooking in the back of the house.
"What you get here is an overall vision of what a restaurant is start to finish," Shurilla said. "Normally when you are training in industry you won't get that front and back, and it gives you a great understanding."
Chef instructor Tom Lelli added, "They have a high standard that they can shoot for and be proud of. When they go out in industry, they know what it takes."
Students agree the hands-on class is setting them up well for their culinary futures.
"I want to own my own restaurant, so that's why a class like this is super exciting because I'm getting the experience in the front of the house and the back of the house as well," said Mikel Espinosa Reyes, a second-year culinary student.
Culinary student Mary Joy Dela Cruz said, "Cooking was my passion from when I was a kid, and I've been wanting to experience making different types of food." What she got at UH Maui College was much more. "By taking this class, I went out of my comfort zone. I learned different things like how to serve the people, how to present food in front of them."
The former Class Act restaurant has been the recipient of multiple awards throughout its 20-plus-year history. The Leis family helped take it to the next level with a $1-million gift in 2006.
Dining room instructor Mark Malone said, "There is a backyard on Maui. There is a backyard on the island of hotels, of restaurants, of fine dining, breweries, wineries and all those things, and I just don't think that people realize that it's sort of a hidden gem."
With all of its accolades, The Leis Family Class Act Restaurant won't remain hidden much longer.
Note: The Leis Family Class Act Restaurant offers a 3-course prix fixe menu with an a la carte dessert on Wednesdays and Fridays, 11:00 a.m.–12:30 p.m. Reservations may be made through OpenTable.com. Malone advises getting on a wait list, since the restaurant is often fully booked within hours after reservations open each semester.