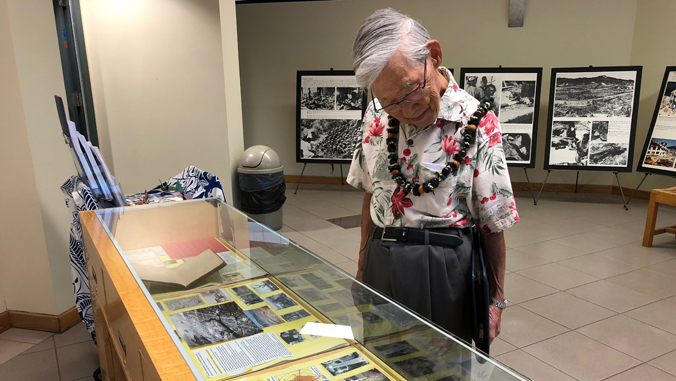 Update July 20, 2020: Lawrence Miwa will share his story through an online talk "That Unforgettable Morning: Hiroshima Atomic Bomb Survivor, Larry Miwa" on August 5 at 1 p.m. HST. Visit this website to register.
Update April 28, 2020: Due to COVID-19 restrictions, the Spark M. Matsunaga Institute for Peace and Conflict Resolution has created a digital Beginning and End of the Bomb exhibit.
Original story:
"No clouds, beautiful blue skies, and then when you look at the surface, it was dark. You can never imagine that a couple of months before that, 140,000 people were there and then I was the only one looking at the city," Lawrence Miwa, an atomic bomb survivor, recalled his life in Hiroshima, Japan days after U.S. troops dropped the nuclear weapon on August 6, 1945.
Miwa, now 89, says that he was 14 years old when the bomb was dropped. He was approximately 20 miles away with his school class studying, but still could see what had happened.
"That was like a toy," Miwa said. "From 20 miles away, it looked like it was about ten inches. But when you look at it right in front of you, it was about four feet. What I remember was that there was a yellow flash from the bomb."
Miwa's several other family members survived the attack, including his parents and sister. His diary, family photos and other artifacts surrounding the attack are on display at the University of Hawaiʻi at Mānoa as part of the Beginning and End of the Bomb exhibit marking the 75th anniversary of the development and use of nuclear weapons during World War II. The showcase, presented by the Spark M. Matsunaga Institute for Peace and Conflict Resolution in the College of Social Sciences, can be viewed in Hamilton Library's Bridge Gallery until April 30.
Approximately 70,000 people were killed when the U.S. military dropped an atomic bomb over Hiroshima during World War II. Tens of thousands later died from radiation exposure and other effects. Three days later on August 9, 1945, another atomic bomb was dropped over Nagasaki killing about 40,000 people. The exhibit includes sections on both bombings, the first nuclear test in New Mexico in July 1945 and newspaper excerpts signifying the end of the war.
"I hope that they can get the impression how horrible it is to have atomic bomb weapons," Miwa said.
The exhibit originated in 1995, marking the 50th anniversary of the atomic bombings of Hiroshima and Nagasaki. This year's exhibit has some new features, including access to a "Nukemap" interactive simulation of the effects of a nuclear explosion on Oʻahu.
Miwa talked about his experiences at a panel event on March 5 in Hamilton Library. Tom Coffman, the author of a book detailing Miwa's story called Tadaima! I Am Home and Miwa's son, UH Mānoa alum Stephen Miwa, also spoke. The panel was moderated by Pamela Rotner Sakamoto.
—By Marc Arakaki